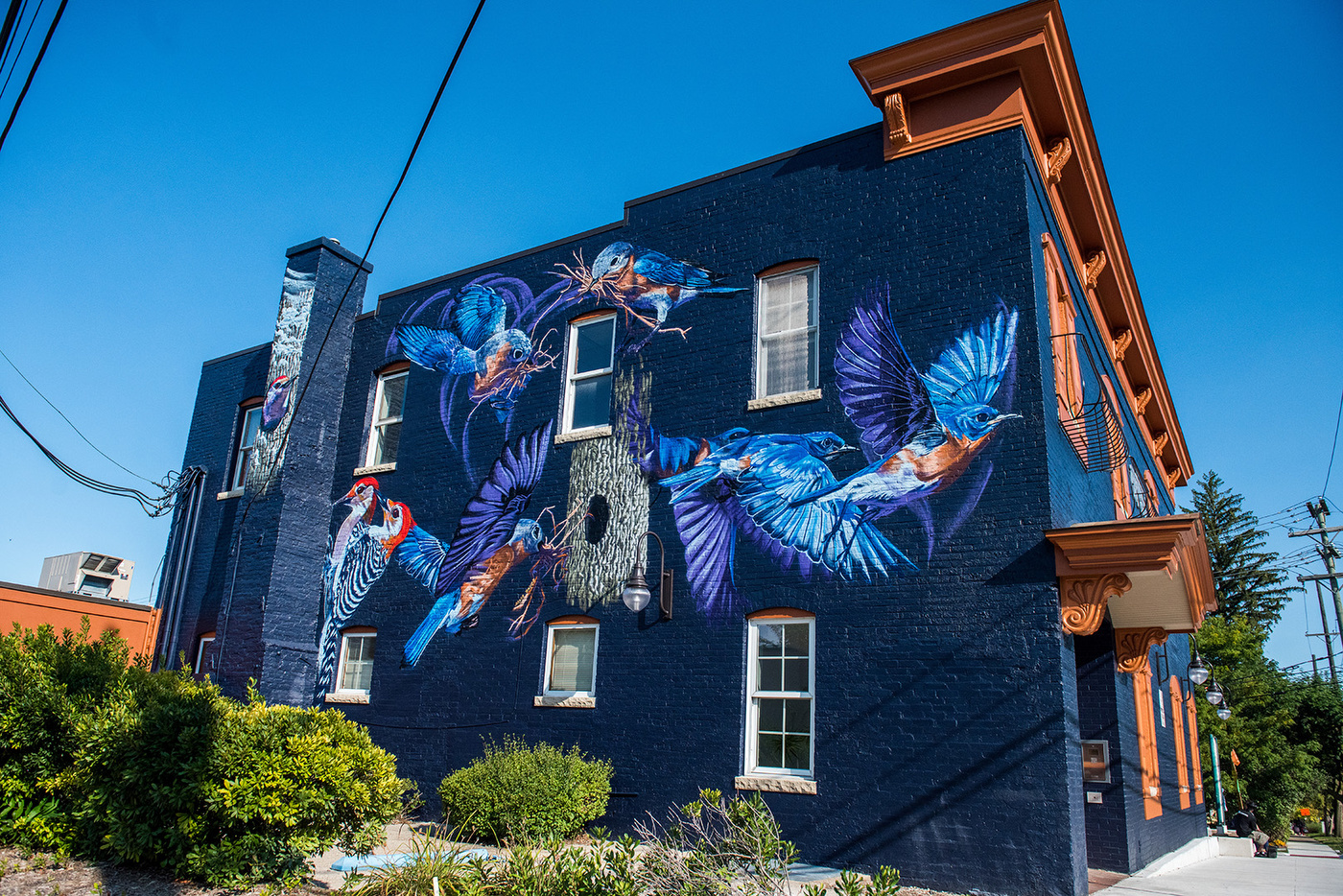 Michigan's Best Cities for Street Art
Enjoy a stroll among artistic expressions
Bursts of color and creativity illuminate streets in cities throughout the state. Invigorate your senses and see what all the buzz is about with a tour of the murals and interactive street art.
Ann Arbor Aesthetics
As a long-time cultural hub, not only is Ann Arbor home to many galleries and museums, it is home to displays of transformative street art.
Thanks to the Ann Arbor Art Center (A2AC) Murals initiative, 15 new murals have been added to buildings since 2018. The initiative pairs building and business owners with artists who transform walls into expressive beauty for the community and visitors to appreciate.
Gracing a wall on the historic Pretzel Bell Building is a collage-like mural with references to the city's culture, including a pretzel and bell in a nod to the building's history. Other A2AC murals include scenes with flowers, birds, butterflies and geometric designs.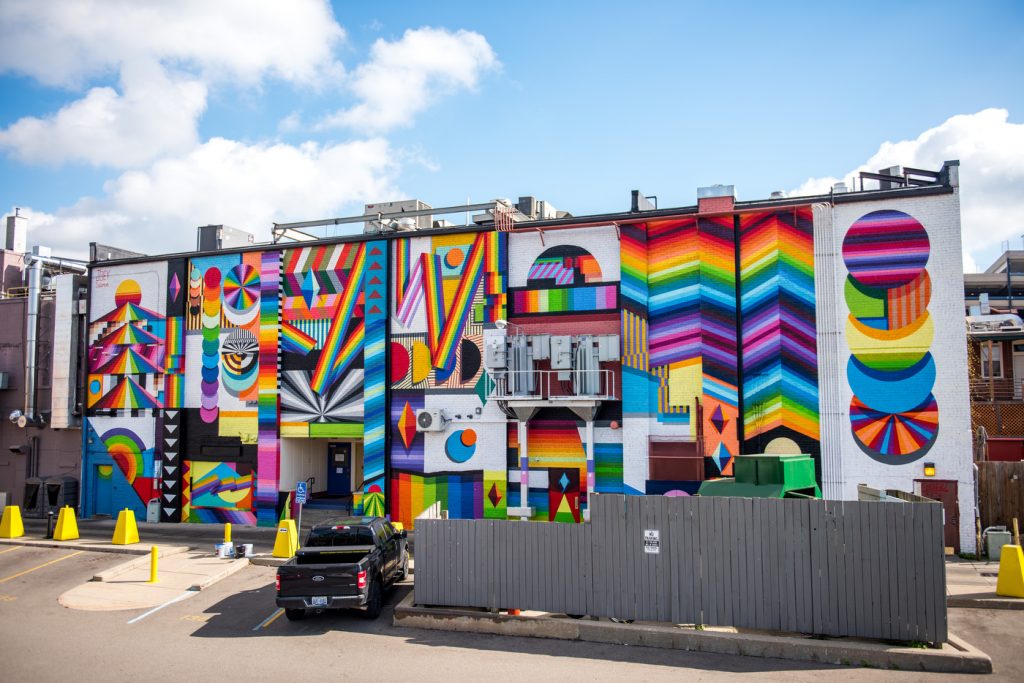 Public art is a part of our public history, part of our evolving culture and our collective memory, according to the Association for Public Art. It reflects and reveals our society and adds meaning to our cities.
Numerous other murals join the A2AC collection in decorating the city. Gene Kelly sings, dances and swings from a (real) lamppost in the popular "Singing in the Rain" interactive mural on the library's parking garage entrance. There is also a mural with a three-dimensional comic strip and another that gives angel wings to those standing in front of it.
Saugatuck Scenes
It's not surprising that the art-happy city of Saugatuck showcases spectacular examples of talent on its streets.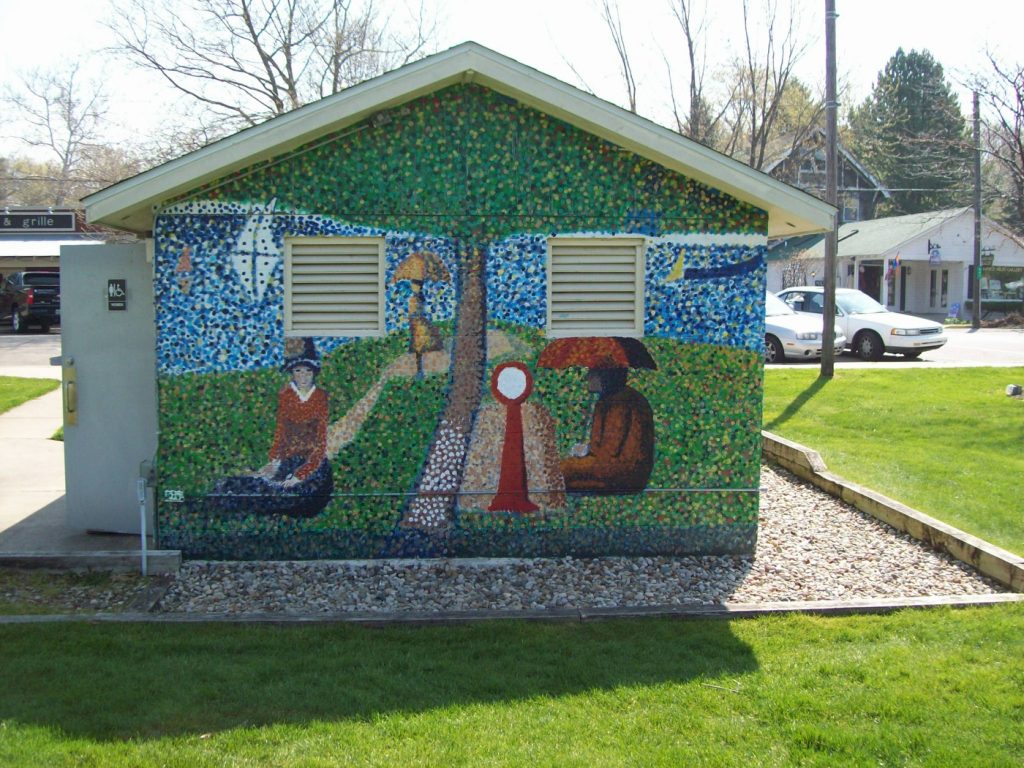 The side of a public restroom is transformed into a scene of people relaxing in a park on the banks of a river. It replicates one of the Art Institute of Chicago's most famous paintings, Georges Seurat's "Sunday Afternoon on the Island of La Grande Jatte." Fittingly, the mural is located in Wicks Park on the banks of the Kalamazoo River.
Not far from the park on the Dockside Market Place building is the vibrant "Smile! You're in Saugatuck" mural, providing a postcard-like background for visitor photos. Also within walking distance is an eye-catching mural with bold colors and geometric patterns on the Saugatuck Center for the Arts.
Graphics in Grand Rapids
As home to the famed international art competition, ArtPrize, Grand Rapids has grown its culture and mural scene over the years. A 2021 entry in the competition, "Charging Forward," depicts a rushing herd of elephants on the Oliver Healthcare Packaging building. Inspired by the pandemic, the mural celebrates humanity and its ability to overcome hardships.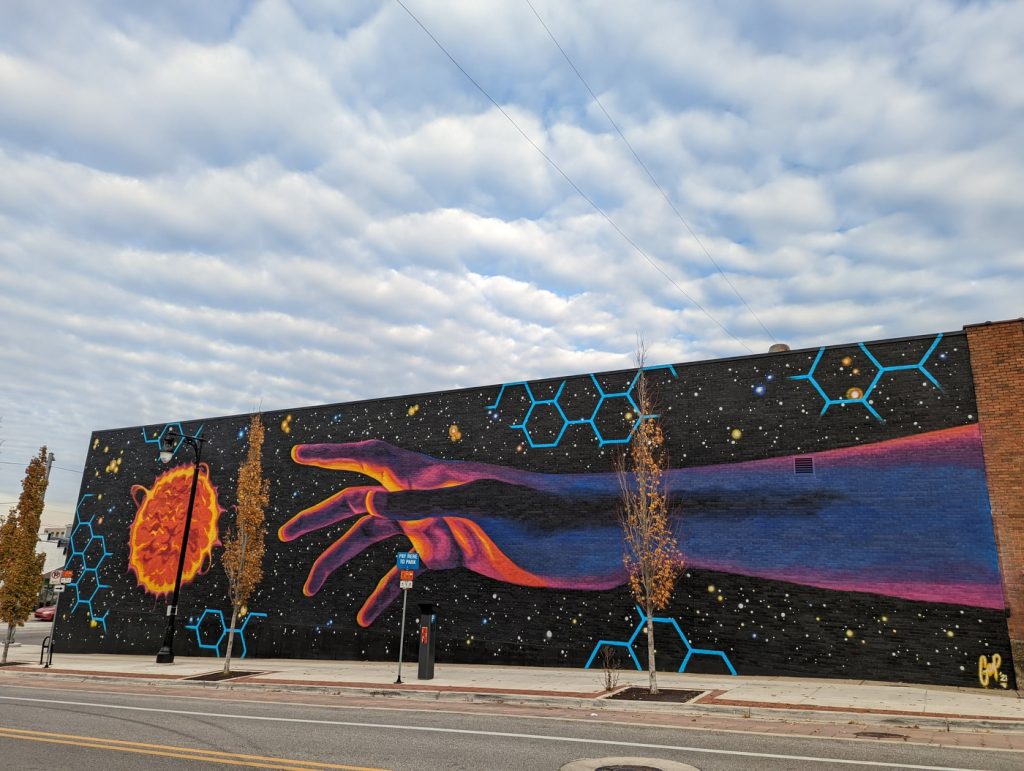 Between the ArtPrize murals and the many additional works of public art sponsored by local organizations, there are more than 100 diverse murals in and around the city. See a chromatic display of fruits and vegetables, a gramophone, flowers, fish, faces and more.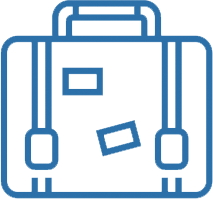 Travel Tip
Mural-filled cities often have downloadable maps available to help you locate and appreciate their street art. Check to see if the city you're planning to visit has a mural map.