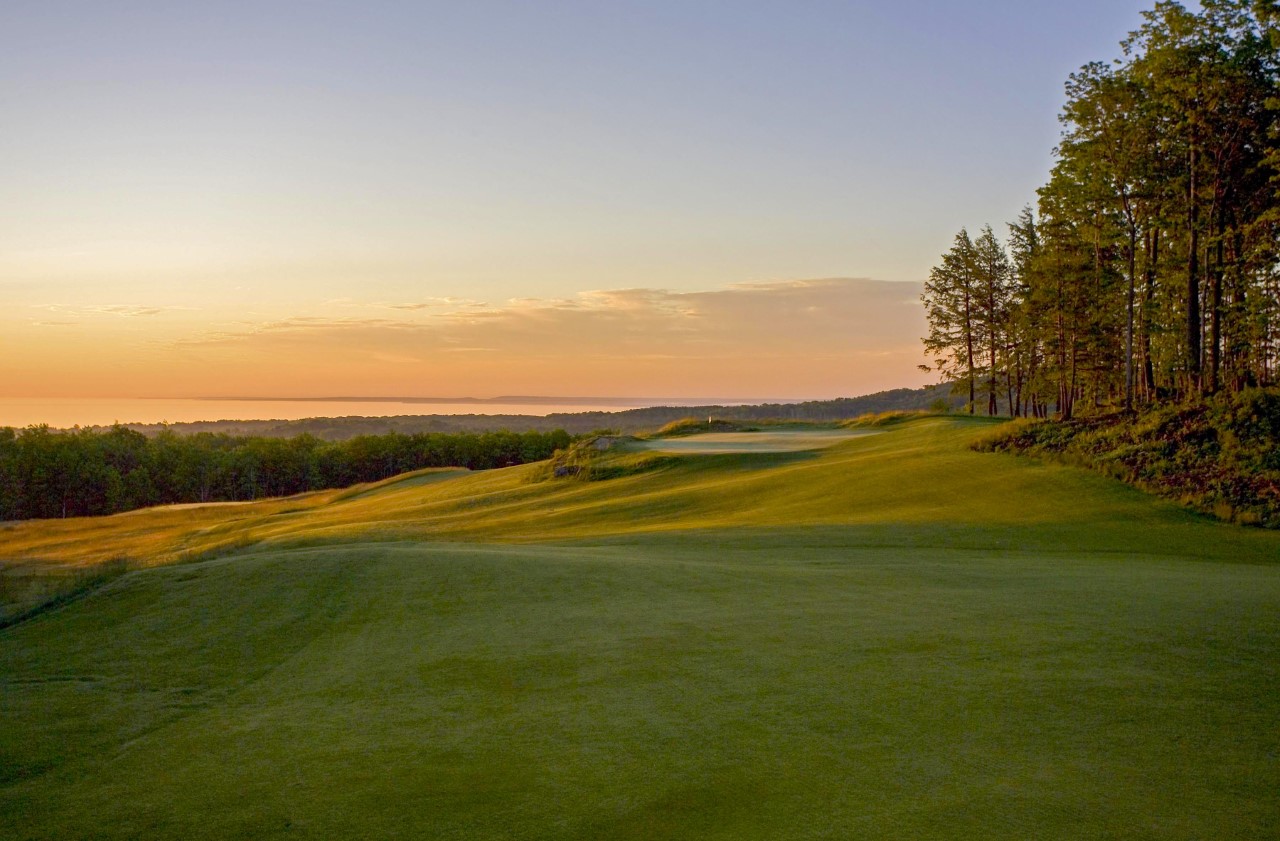 4 Upper Peninsula Golf Courses Worth the Drive
Golf courses that will take your breath away
A breathtaking experience for any golfer who visits Michigan's Upper Peninsula is during the fall season when the magnificent colors scatter across the year-round playground. The region comes to life a few weeks earlier than downstate with hardwoods changing colors and turning vibrant hues of scarlet, rust, gold and orange.
These Upper Peninsula golf courses are must-play destinations in the fall when the colors start to turn.
Marquette Golf Club (Greywalls Course)
The game of golf itself can be a wild ride full of thrills, twists and turns.
Such is the experience at Marquette Golf Club (Greywalls Course), which has caught not only the attention of golfers across the state of Michigan, but all the golfing world.
Golfweek named it the No. 2 course in Michigan, and upon its opening in 2005, it was included in the Top 10 Best New Course listings of all the major golf publications.
Designed by Mike DeVries, the Greywalls Course was opened to complement the original Heritage Golf Course – which opened in 1926 – to make the Marquette Golf Club the only 36-hole facility in the Upper Peninsula. It is a natural wonder and testament to the area's rugged beauty.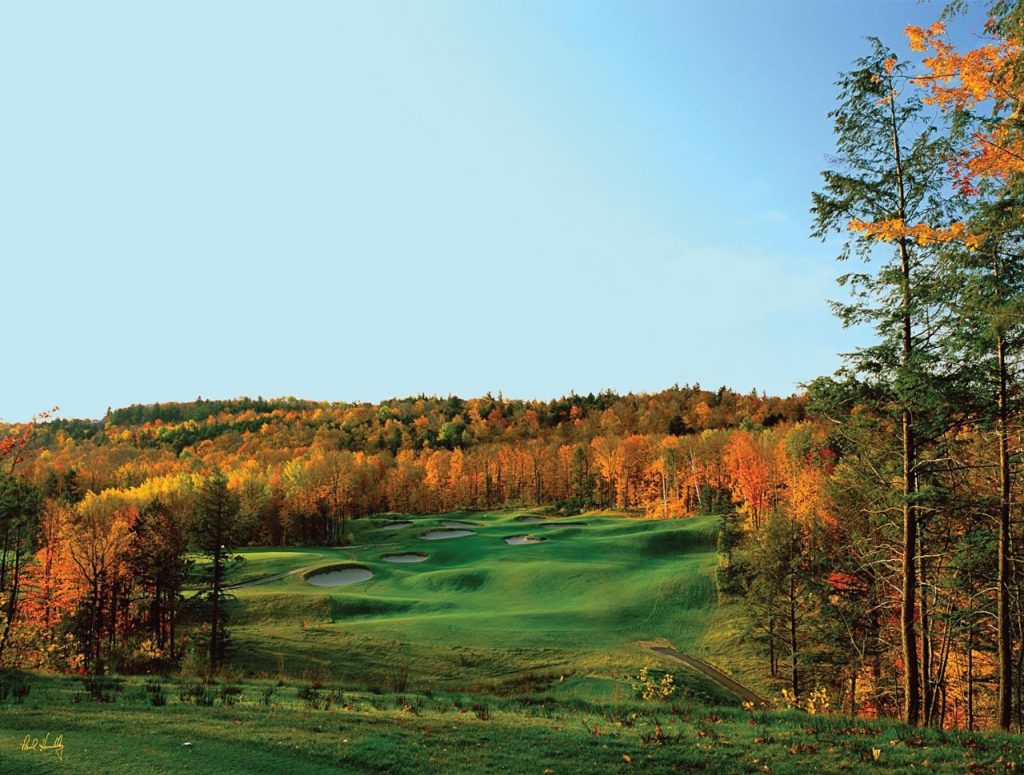 The course takes players over a diverse, yet flowing variety of terrain: tumbling fairways, boldly contoured slopes, dramatic elevation changes, rolling and bunkered links and breathtaking panoramic views of Lake Superior.
Greywalls is truly a unique golf experience. The layout is challenging, but one with jaw-dropping scenery of Lake Superior and walls of rock jutting out near immaculate greens and fairways.
DeVries said the routing for his course was very difficult.
"I had to find good golf holes that fit together and produce a good rhythm and flow to the course and not just one 'wonder-hole' after another, with rock everywhere and views of Lake Superior," he says.
Island Resort and Casino, Harris
Sweetgrass Golf Club and Sage Run Golf Club
If you're looking to mix in a little gambling while also hitting the links, Island Resort and Casino in Harris – located just west of Escanaba in the Upper Peninsula – offers both.
The most famous of Island Resort's two courses is Michigan native Paul Albanese's designed Sweetgrass Golf Club, which was named the 2022 Golf Course of the Year by the National Golf Course Owners Association. It offers a links-style layout paired with a traditional parkland design, with a unique variety of greens ranging from double greens, the 230-yard par-3 Redan (well protected by bunkers) to a sloping biarritz (with a gulley) on the par-3 12th. The course's signature hole is a rare island green on the picturesque, par-3 15th named Turtle (Mshike).

Throughout the course, golfers encounter a rich history of the Hannahville Indian Community with holes named after traditional Potawatomi clans, villages, allies, medicines and symbols. The dedication to nature, preserved bridges and the area's heritage make for a unique golf experience.
In addition to Sweetgrass, Sage Run is the resort's newest championship-level golf course which was also designed by Albanese. Ranked among Golf Digest's "America's Best New Courses," this sister course meanders through beautiful Upper Peninsula hardwoods and open vistas with very dramatic views.
An elongated hill formed by glacial ice is the primary feature on Sage Run. Several holes wind off and around the hill offering a variety of shots sure to thrill golfers of all abilities. The combination of long holes with creative short par 4s lined with fescue grasses and strategic bunkering present a challenge to any golfer.
Following your round, a full-service casino offers everything you could want including a poker room, gaming tables, slots, bingo and the TwinSpires Sportsbook complete with a sports bar.
There's live entertainment at Club Four One and the Island Showroom, a 1,315-seat theater. The Drift Spa bills itself as a head-to-toe "oasis of calm" with a full menu of treatments. Dining options are abundant, with four main restaurants offering a wide variety of cuisine.
The resort's hotel has numerous choices, ranging from traditional guest rooms to luxury suites as well as a 42-site RV park.
Timber Stone Golf Course
If you're looking for the quintessential northern Michigan golf experience, look no further than Timber Stone Golf Course in Iron Mountain on the western Upper Peninsula, about 100 miles north of Green Bay, Wisconsin.
Nestled into Pine Mountain Resort, Timber Stone incorporates the landscape of the Northwoods with a masterful design. The course was named one of the best golf courses in America by Golfweek magazine in 2019 and the sixth best golf course in Michigan by GolfMichigan.com in 2020.

Created to highlight golf and nature in perfect harmony, Timber Stone stretches more than 7,000 yards over 240 acres. Designed by Michigan golf course architect Jerry Matthews, the course is remote and is a real knockout with imaginative and large green complexes including two double greens. The par-3 17th, Sagola, is a fan favorite and the course's signature hole, with an elevation drop of 110 vertical feet from the back tee to the green.
From lakes and streams to beautiful mountainous scenery, Timber Stone offers challenges to golfers of all abilities. The surrounding ponds, streams and an abundance of wildlife enhance the golfing experience. It is not unusual to have an audience of deer as golfers wind their way around the professionally manicured fairways and greens.