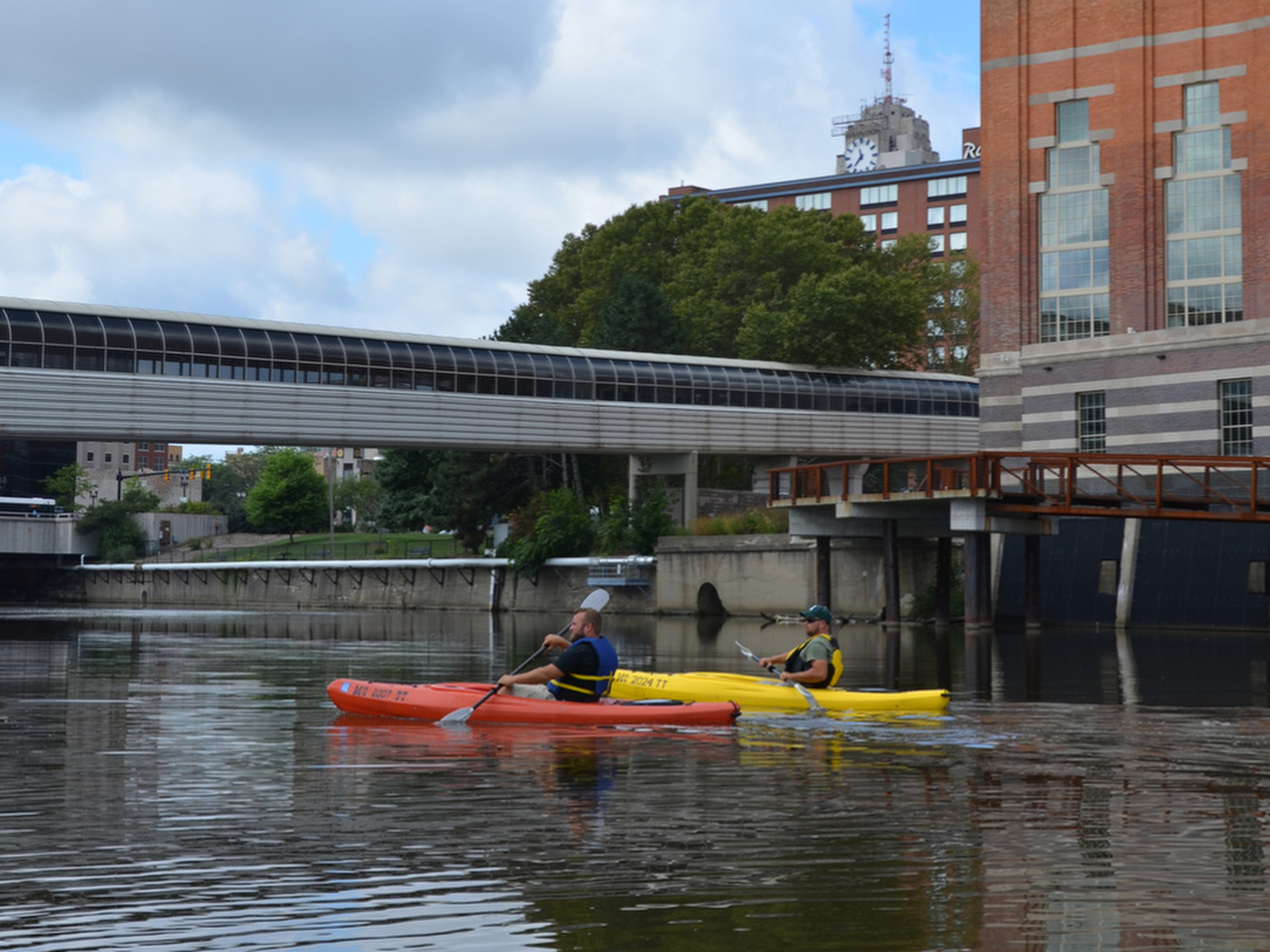 Michigan's Urban River Adventures
Paddle through exciting and diverse scenery on Michigan's urban river routes
Have kayak – will paddle. The rivers that flow through Lansing, Ann Arbor, Kalamazoo, Grand Rapids and Detroit are ideal for getting fresh air exercise and taking in scenery ranging from industrial to natural. It's a different kind of adventure.
Bald eagles soar overhead and turtles sun themselves on logs. A great blue heron makes an appearance, and ducks drift alongside as you paddle a colorful kayak on the Grand River. These are sights on one of several River Town Adventures in the heart of Lansing, the state's Capital City.
Paul Brogan and Nate Williams sort of stumbled on the idea for their kayak and canoe rental company, River Town Adventures, in 2014. "We were fishing around for a small business idea and had paddled the Grand River," says Brogan. "We thought, wow, we have the resources right here, and it looks like there's a need for it." They have surprised even themselves at how the company has grown, to a livery of about 60 watercraft plus rental bicycles.
Pick Your Paddle
River Town Adventures' Downtown Paddle Around begins at Rotary Park along the popular River Trail pathway. Brogan recommends it for beginners, families with children and anyone who wants an easy, hour or two outing on the water. The Power of the Grand option puts in at Moores Park, near the Otto E. Eckert Power Station, and ends at the Rotary Park landing. They offer, says Brogan, "a nice mix of city and industrial structures and nature."
Intermediate and experienced paddlers have a choice of longer, more challenging routes that wind past the city's Potter Park Zoo (try to catch a glimpse of the camels), and through the Michigan State University campus in East Lansing.
City Sights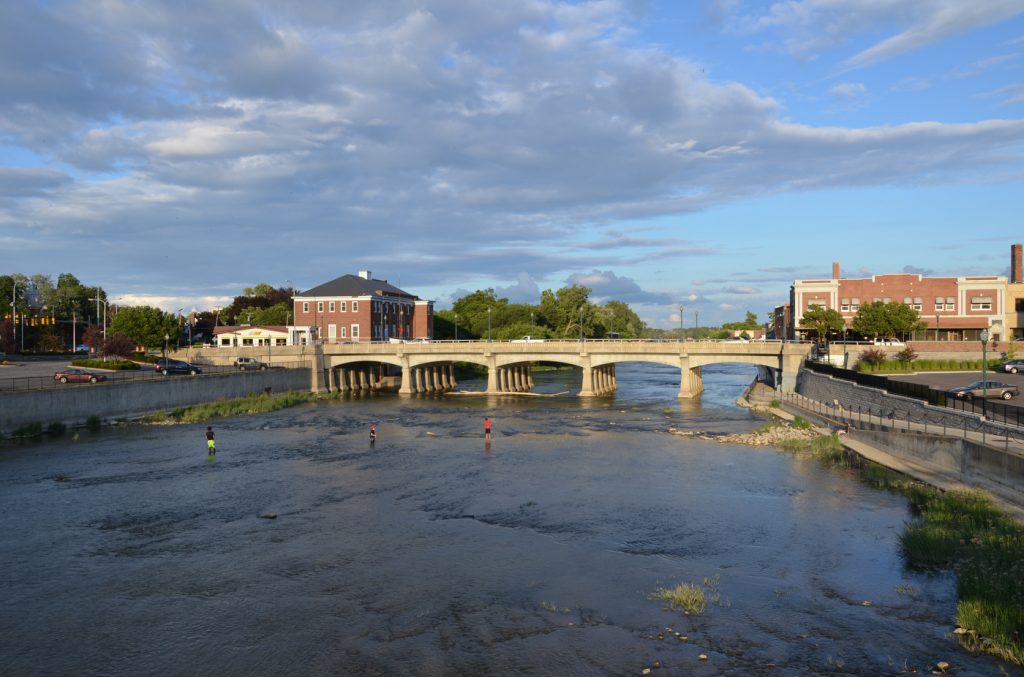 Flow & Glow Friday nights are special, says Brogan, as kayaks are decked out with strands of LED lights for a paddle through waters that reflect the glow of buildings along the river.
While on an urban paddle excursion, be sure to stop along the way to enjoy a taste of the city, advises Lori Lanspeary, leisure marketing manager for Great Lansing's visitors office. "Pack a picnic, stop upstream on the Grand River and picnic at an accessible landing just before the rapids at Moores Park, in the shadow of the Iconic stacks Wynken, Blynken and Nod."
After the outing, take a tip from Lanspeary and head to MP Social, steps from the River Town Adventures dock. "It's a little-known, fabulous place, nestled in the lobby of Market Place apartments with a balcony overlooking the river and Rotary Park, access it up the stairs along the River Trail. You can also get a to-go drink there and sip it at a table in Rotary Park or on an Adirondack chair at the Urban Beach now that we have the Social Districts in place." Her favorite drink at MP Social? The Beet Margarita!
More River Routes
Ride the currents of the Huron River through Ann Arbor in a kayak or canoe and enjoy stops at scenic riverside parks along the way. Two city-operated canoe liveries provide rental service and routes. The Argo Cascades, a series of manmade drops and pools, are a popular feature with thrill-seekers on the 1-1/2-hour route. There is also a 2-1/2-hour route for a longer adventure.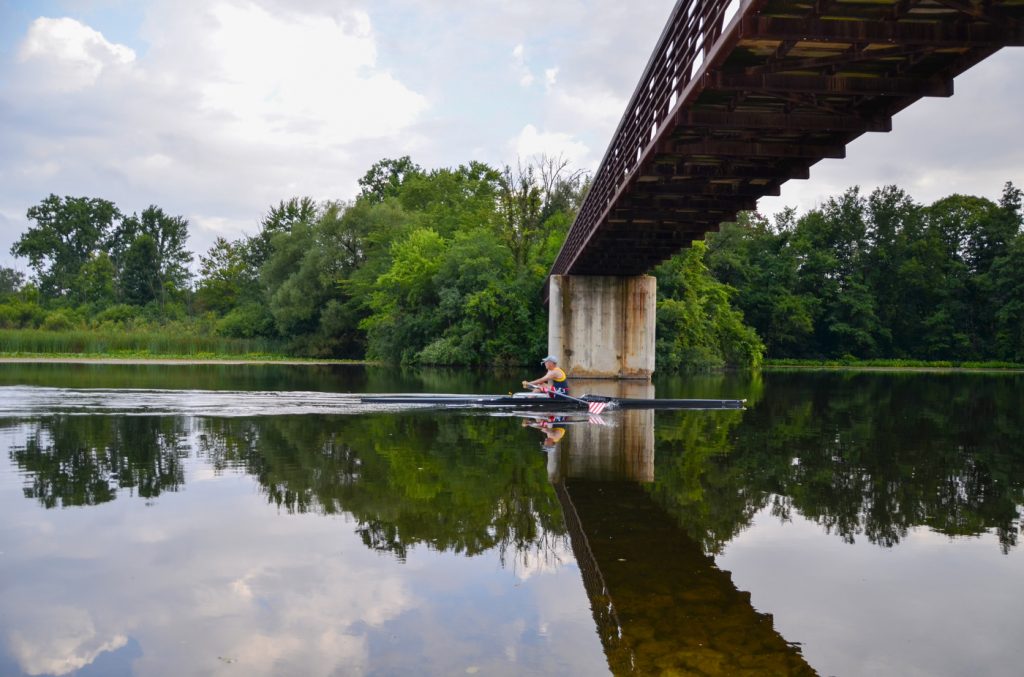 In Kalamazoo, Plainwell Kayak Company offers one hour and three-hour trips on the smooth flowing and clear waters of the Kalamazoo River. Brave paddlers love the option and thrill of riding over a spill way (rather than portaging) on the three-hour trip.
Named "America's Best River Town" by "Outside Magazine," Grand Rapids is abundant with opportunities for aquatic adventure. Rent a kayak or stand up paddleboard from Bill & Paul's Sporthaus and head out on the glorious Grand River for good times.
A guided tour on the Detroit River and its canals provides a whole new way to explore the Motor City. Detroit River Sports offers a variety of themed tours led by experienced guides. A historic canal tour showcases Fisher Mansion and Harbor Island. A sunset tour takes you through Detroit's lower east side and includes sunset views of Downtown Detroit, Lake St. Clair and the Detroit River.