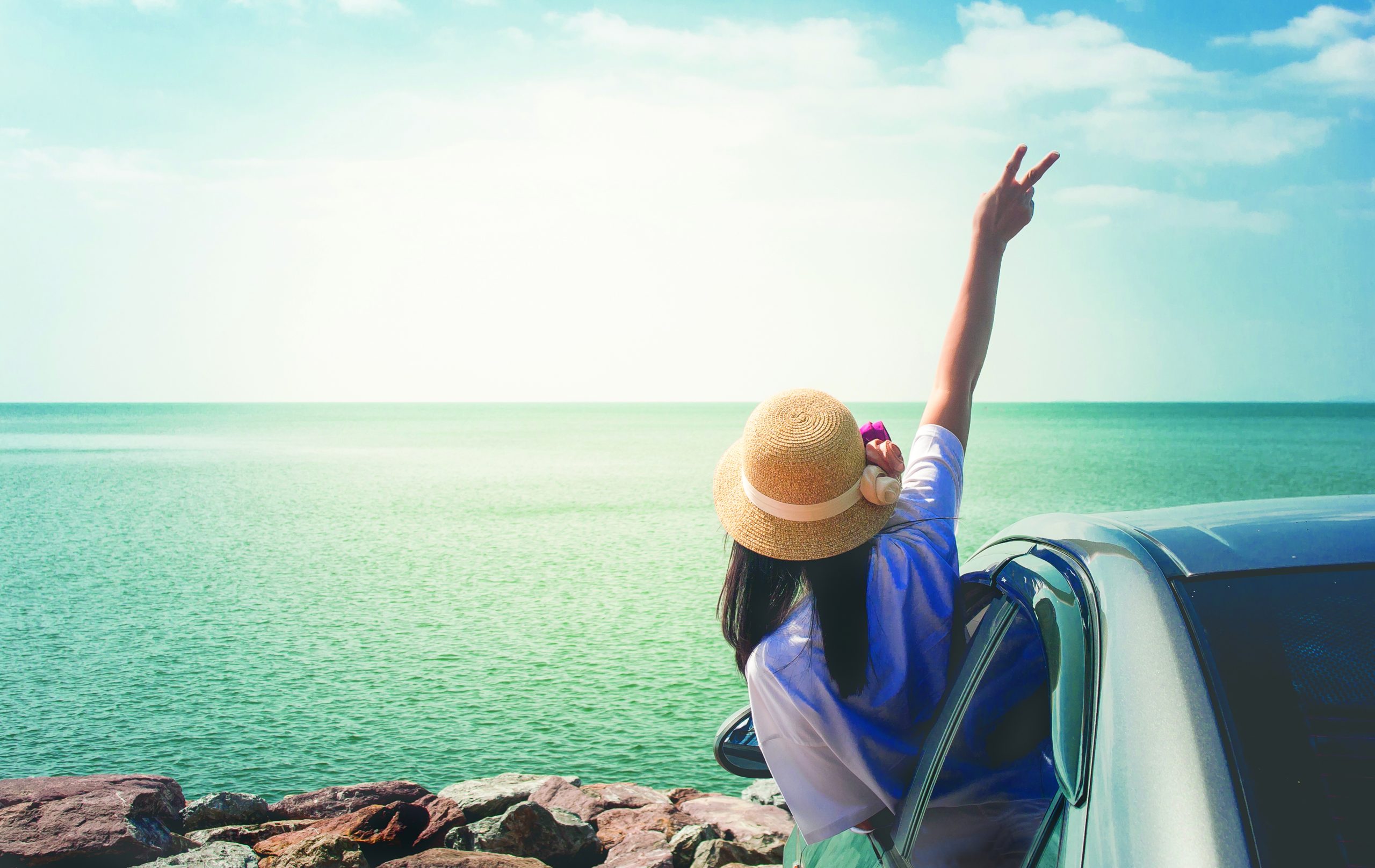 Road Tripping To Summer Paradise
Explore Michigan's West Coast This Summer
Pack the sunscreen and a stack of beach towels and hop in the car, Michigan's beaches are calling!
Whether you have a weekend, a week or a full month, a road trip up the west coast of Michigan offers a spectacular variety of sublime spots for soaking up the summer sun, including sprawling state parks, secluded gems and urban beaches just walking distance from downtown dining. Stroll for miles along clear sugar sand expanses, hunt for fossils, play in the turquoise waves or just relax with a book in the sun. Nothing says summer like a day at the beach.
Lake Michigan's crystalline waters are always refreshing. The east coast of the lake is dotted with giant sand dunes formed during the last ice age. Climb a dune for spectacular views, then enjoy a thrill as you race your travel companions back down. Plus, since Michigan is on the far western edge of the eastern time zone, you'll enjoy watercolor sunsets that stretch the evening until nearly ten p.m. in early summer.
We've assembled a list of special spots we know you'll want to explore. Each beach is paired with a nearby restaurant. Begin your day with a delicious brunch, grab fixings for a picnic or enjoy a relaxing dinner at the end of a perfect day.
Find a new favorite or spend the summer visiting them all!
---
WARREN DUNES STATE PARK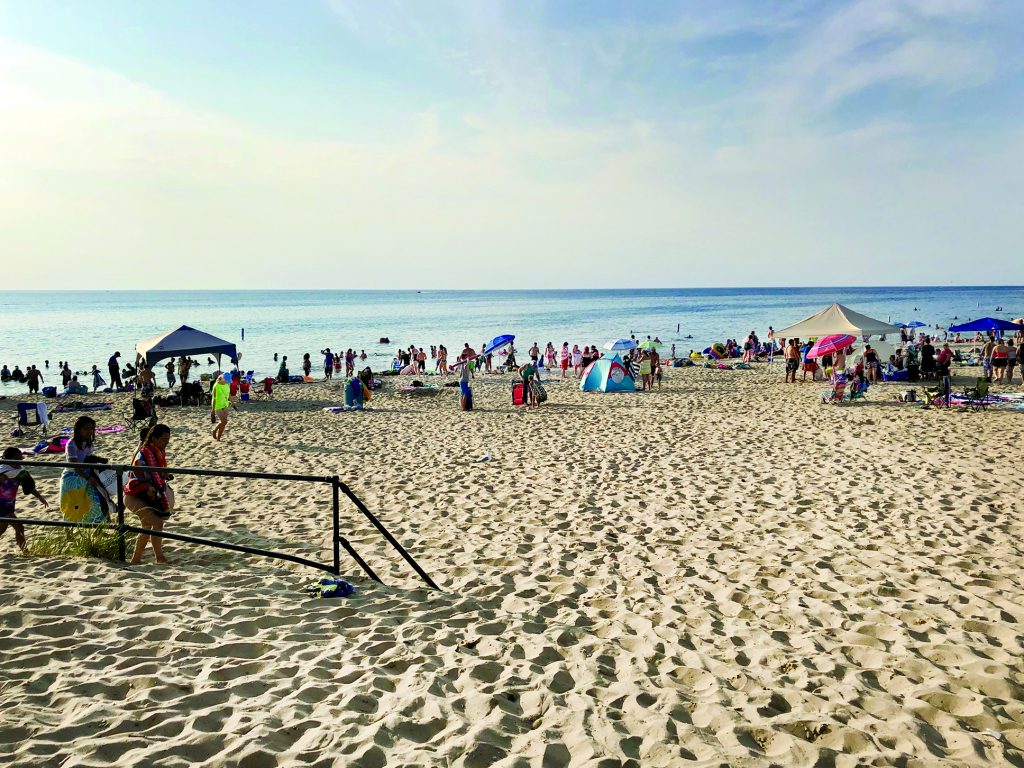 Although less than 90-minutes from downtown Chicago, a trip to Warren Dunes State Park is always a refreshing escape. With more than 3 miles of shoreline and 6 miles of hiking trails, the park's nearly 2,000 acres of natural wonders make you feel as though you have discovered a wilderness paradise close to home. You'll find fantastic views from the rugged sand dunes which rise 260 feet above the lake, kayak, paddleboard, and sand board rentals, plus three wheelchair accessible paths to the water, Warren Dunes is the perfect beach day escape. You can even bring your dog—the north end of the beach is pet friendly. Though, of course, Fido must be on leash! Michigan Recreation Passport or Daily Fee required. You can purchase in advance at mdnr-elicense.com.
EATS NEAR WARREN DUNES STATE PARK
A quick five-minute drive from Warren Dunes State Park, The Peasant's Pantry is the perfect place to stop for homemade sandwiches, salads, soups and baked goods for your day at the beach. Grab a breakfast sandwich and a delicious Umbria coffee to start your day, or make a quick trip for all the fixings for a fantastic lunch. Carry out only. Call ahead for quick and easy service.
SILVER BEACH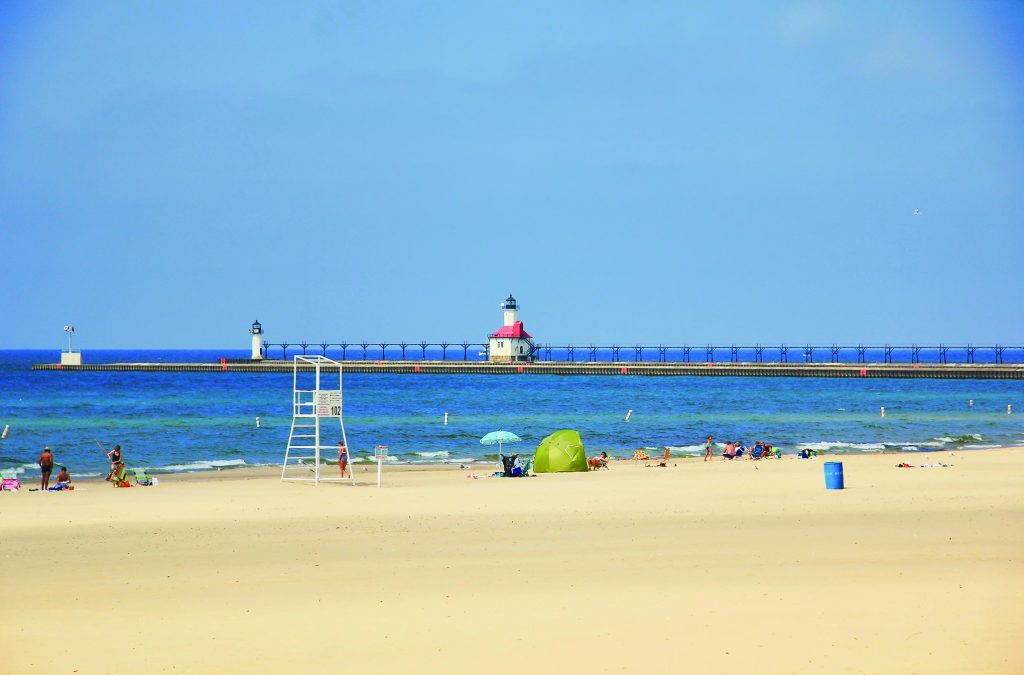 Right in downtown St. Joseph you will find another gorgeous beach. Silver Beach County Park is the perfect choice for families who prefer to have easy access to restrooms and other services. With barrier free walkways and free beach wheelchairs, Silver Beach is accessible to all. There are also kayak and SUP rentals, volleyball courts, playgrounds, pavilions you can rent for group gatherings and well-maintained restrooms, as well as a concession stand. You can walk down the South Pier to get a closer view of the famous lighthouse. The pier is also a popular place to fish. Plus, there are paved paths that will take you directly to the famous Whirlpool Compass Fountain, Silver Beach Center, the bluffs and downtown St. Joseph. Your kids will especially love the beautifully restored Silver Beach Carousel! There is a fee to park at Silver Beach: $8 per vehicle for Berrien County residents, $15 per vehicle for non-Berrien County residents.
EATS NEAR SILVER BEACH
A quick walk from Silver Beach you'll find Silver Beach Pizza, voted the best pizza in Southwest Michigan, in a very cool building which once upon a time served as the local Amtrak station. At Silver Beach everything is homemade daily, even the dough and the sauce. And make sure to try a beer presented in a frozen "Schooner" too. If your party consists entirely of people over 21 years of age you can make a reservation for their "upper deck," with spectacular sunset views. For downstairs seating, you can call ahead to put your name on the wait list, then get a text when your table is ready. Pizzas are also available for pickup if you'd rather eat right on the beach!
ESCH ROAD BEACH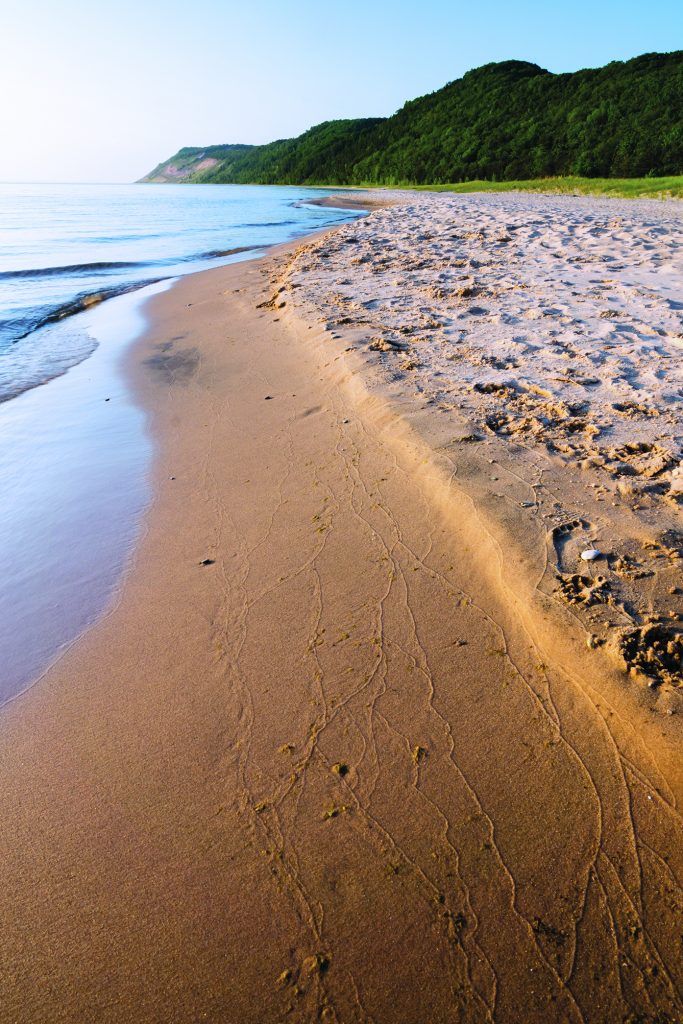 One of the more popular beaches on the Sleeping Bear Dunes National Lakeshore is the Esch Road beach, a quintessential Northern Michigan getaway. Enjoy long walks in the sand or float in the water all afternoon gazing at the beautiful dunes. The farther you walk from the parking area before setting up in the sand, the more privacy you will have. When you enter the beach from the parking area, the pet friendly beach is on the right (north) side. Go left if you prefer to be away from dogs. There is also a creek that enters the lake on the southern end of the beach, which provides a popular natural play area for children. There is an outhouse at the beach entrance. Park pass is required. Purchase at the Visitor Center in Empire or at the self-pay cannister.
EATS NEAR ESCH ROAD BEACH
What could be more refreshing after a long day at the beach than a cool, sweet treat? Located in Empire, about ten minutes north of Esch Road, Grocer's Daughter Gelato and Sweet Shop is an absolute gem. Every single one of their delicious treats, all made in Michigan from ethically sourced ingredients, will make your mouth water. Whether you are in the mood for gelato, a coffee or some of the best chocolate you will ever taste, Grocer's Daughter is certain to please.
MAPLE BAY NATURAL AREA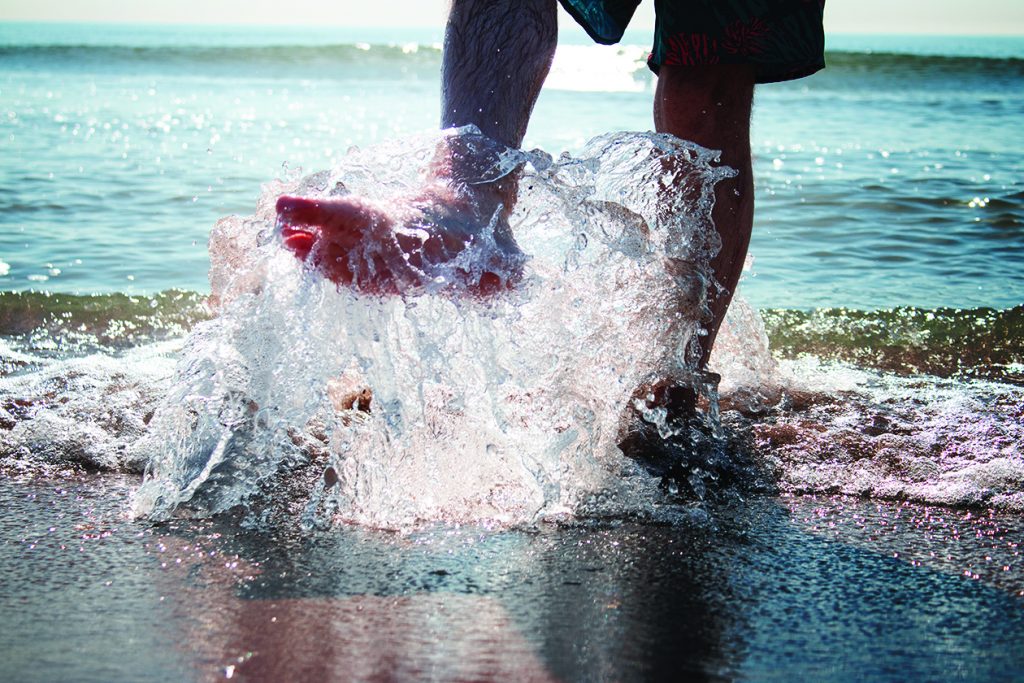 Nestled into the shoreline between Traverse City and Elk Rapids is one of the best kept secrets in Northern Michigan, the Maple Bay Natural Area. Protected by the Grand Traverse Regional Land Conservancy, Maple Bay has a gorgeous pet-friendly beach. Visitors have to hike a half mile between the no-fee parking area and the water, but it's well worth the effort. Maple Bay Natural Area is one of those beaches that will make you feel as though you have stumbled upon your own private paradise. There is plenty of room to spread out and explore, both on the long sandy beach and the wooded hiking trails, so you can always find a quiet spot even on the warmest summer weekends.
EATS NEAR MAPLE BAY NATURAL AREA:
After a long day at the beach, who wouldn't want a delicious drink and some down-home cooking? Pearl's New Orleans Kitchen brings a taste of The Big Easy up north! With fantastic gumbo, and a full spread of Cajun specialties, from alligator, muffuletta, po' boys, crawfish etoufee, shrimp and grits, fried chicken and so much more, including a full kid's menu, Pearl's will delight the whole family. The specialty cocktails, beer list and desserts are also not to be missed!
1ST & 5TH STREET BEACHES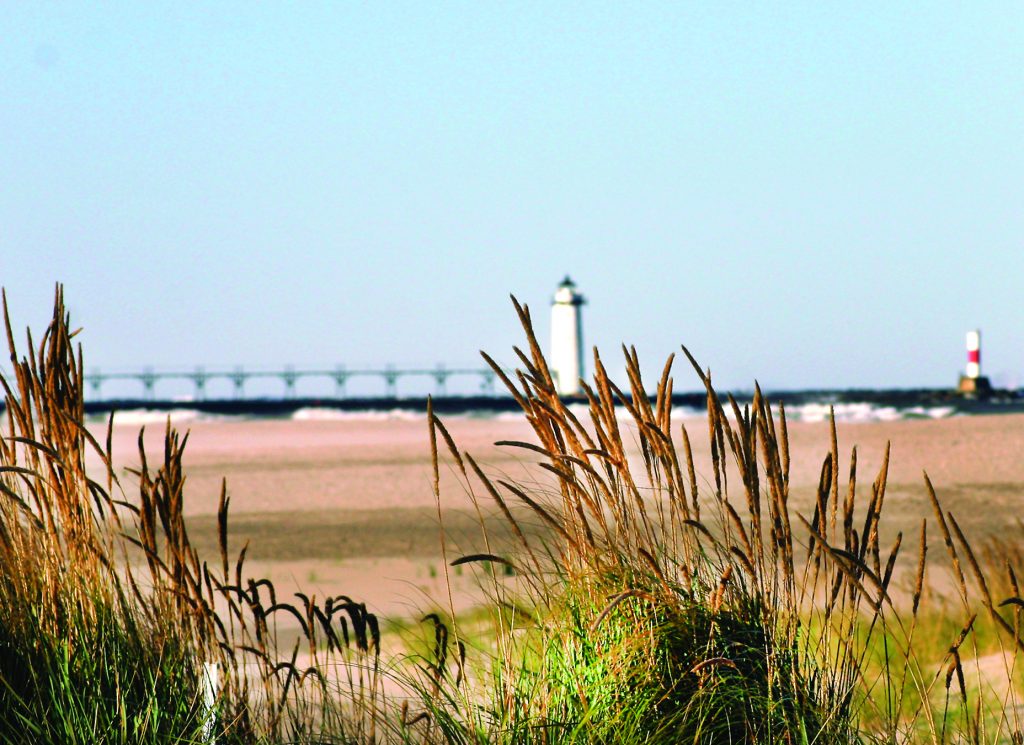 The City of Manistee is home to two gorgeous Lake Michigan beaches, 1st Street Beach on the south side of the river, and 5th street beach, on the north side of the river. Enjoy wide sugar sand expanses, cleaned regularly for a pristine experience every time. Walk for miles along the shore, venture out onto the pier or just relax in the sand. A day at the beach in Manistee is sure to bring smiles. Don't forget to leave time for a relaxing dinner in town at the end of the day, followed by a sunset stroll on the river walk. There is a dog play area on 1st Street Beach. You'll find playgrounds, restrooms, refreshments and handicap accessible pathways on 5th Street Beach.
EATS NEAR MANISTEE
Find refreshments after a day in the sun at North Channel Brewing Company. They serve fantastic house made craft beers and specialty cocktails, along with an extensive including sandwiches, salads, burgers barbecue and specialties for the kiddos too.
STURGEON BAY BEACH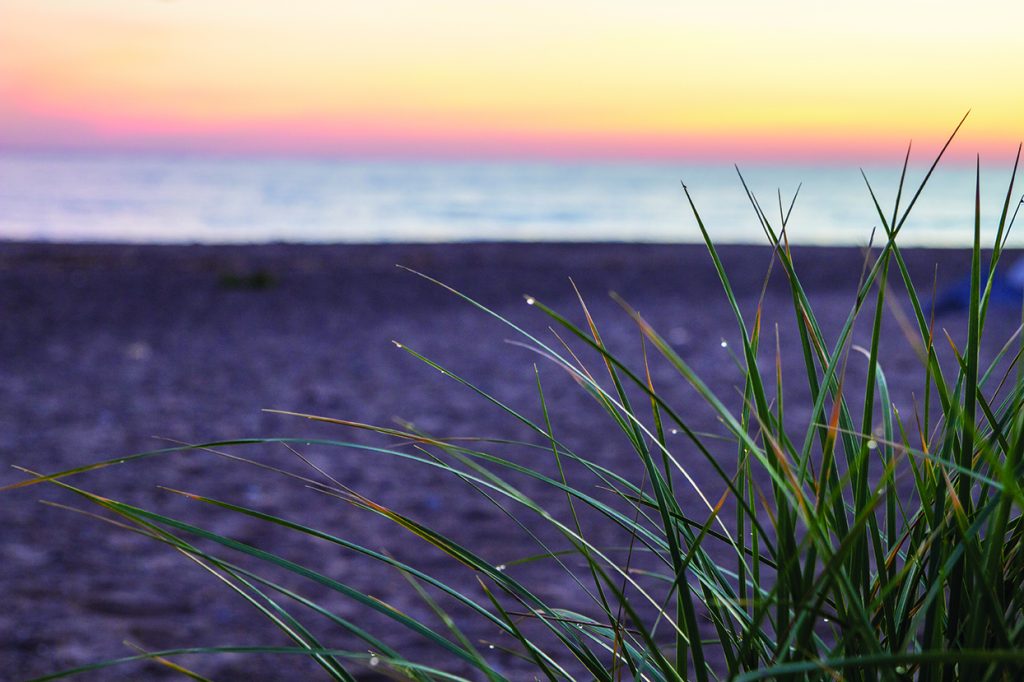 Near the northwest tip of lower Michigan, you will find another spectacular hidden gem, the Sturgeon Bay beach at the south end of Wilderness State Park. Sturgeon Bay beach is off the beaten track, and it feels like it! It is absolutely perfect for beach goers who like to enjoy some peace and quiet. The park is a protected bird nesting area, so no dogs allowed. But humans who like a dose of wild with their pristine water views will find this beach ideal in every way. Michigan Recreation Passport or Daily Fee required. You can purchase in advance at mdnr-elicense.com.
EATS NEAR STURGEON BAY BEACH
Ten minutes south of Sturgeon Bay beach in Cross Village you will find the delightful Legs Inn. Housed in a unique building designed by Polish immigrant Stanley Smolak and built by local Odawa with Michigan stones and timbers, the Legs Inn is unlike any other building you've seen. The inn has a gorgeous garden that you can stroll through, and both outdoor and indoor dining. Old world Polish delicacies are the specialty, but the menu includes spectacular dishes to wow every palate, including locally caught whitefish. The bar serves a delicious variety of unique cocktails, along with both Polish beers and vodka. The restaurant also has cottages for rent, so you can make a weekend of it! No reservations required or accepted.