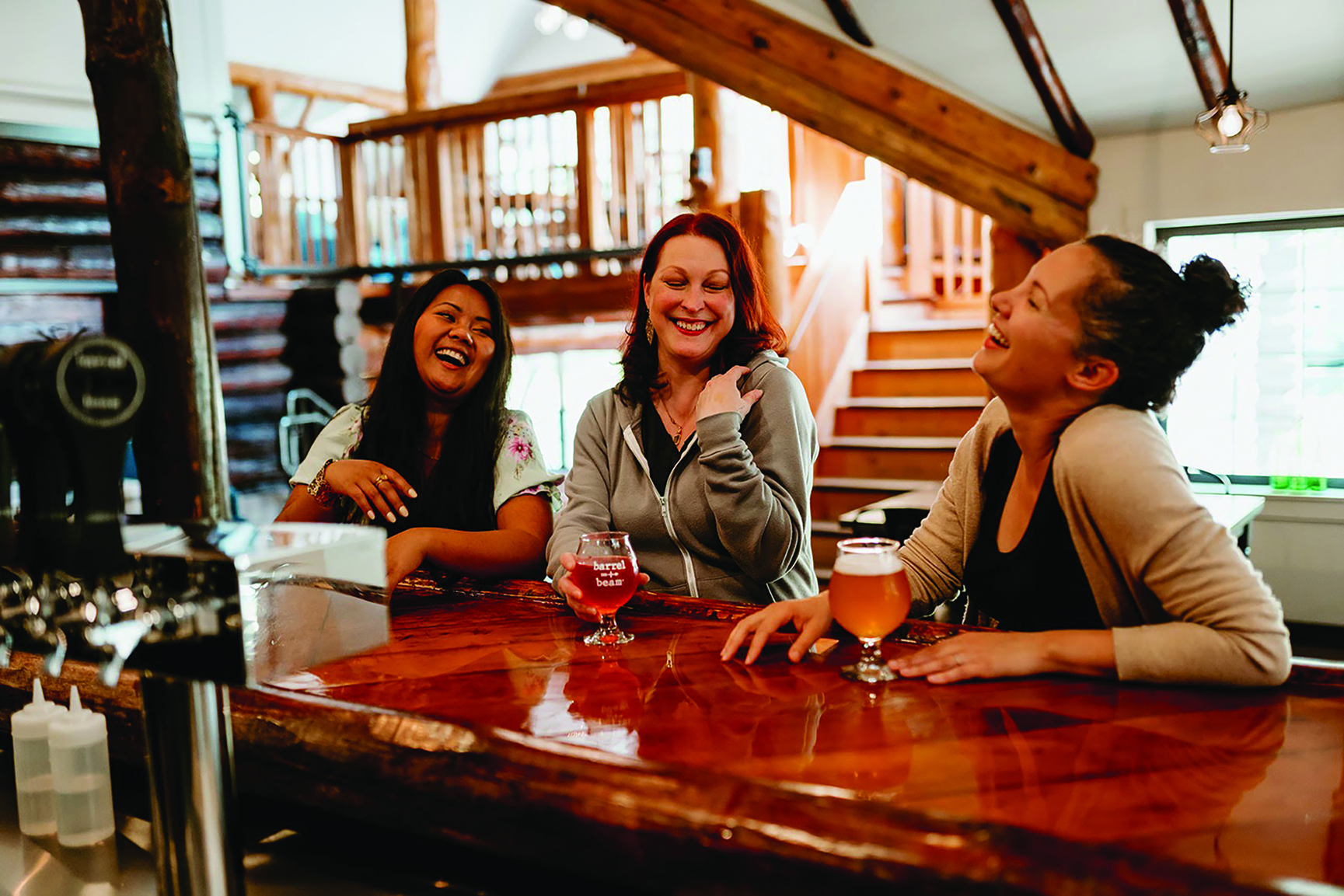 Fall Colors & Hard Apple Cider
Tour hard cider distilleries during peak color season
With over 50 types of apple trees, Michigan is the nation's third largest producer of apples and the second largest producer of hard cider. Hard cider tasting is as popular as wine tasting these days. With cideries trying different and unusual flavors and distillation processes, the final products are as diverse as…well, wine.
So why not pair a hard cider tour with a color tour? Good idea! The Farmer's Almanac is predicting a warm autumn in Michigan this year, which means a more vibrant color palette for Michigan leaves. And there's nothing better than Michigan in the fall. Folks bundled up in knitted scarves and hats, the smell of campfires, invigorating brisk air, and especially freshly harvested apples, makes this time of year perfect for a weekend getaway.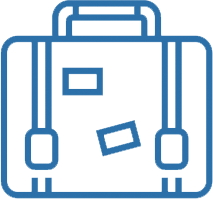 Travel Tip
Cideries throughout Michigan have different operating hours. Some are open year-round while others are only open seasonally. Check their website to make sure their doors are open.
*The dates below are forecasted peak color times for each area.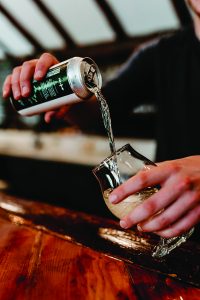 UPPER PENINSULA: SEPTEMBER 18 – OCTOBER 8
Like everything else in the Upper Peninsula, cider distillery is also growing. Barrel and Beam is located just outside of Marquette and has two dry ciders on tap, the Rightful and the Pomme and will be debuting a new cider this fall, Montmorency Cherry cider. barrelandbeam.com
In Sault Ste. Marie, Soo Brewing Company has one House Apple Cider on tap but check their website as most of their beers and ciders change with the seasons. soobrew.com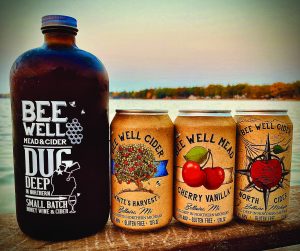 NORTHERN MICHIGAN:SEPTEMBER 25 – OCTOBER 15
Located in downtown Bellaire, Bee Well Mead & Cider tasting room currently has 20 ciders and meads on tap, ranging from tart to sweet. The Ghost is flavored with habanero and ghost pepper while Comfortably Plum is a blend of apples, plums and honey. Their Spy Vs Citra is a dry hopped cider that won two Best in Show awards at the Great Lakes International Cider and Perry Competition (GLINTCAP). And one cider that might pull at the heartstrings is Family Tree, a community-sourced cider, featuring apples from local backyards and sweetened with just a touch of honey. beewellmeadery.com
Sutton's Bay Ciders just recently won first place at the GLINTCAP competition for their Natalie Rosé cider. They have an indoor/outdoor tasting room with beautiful views of the bay and host Trivia Tuesdays, Bingo Wednesdays and live music on Sundays on the deck (weather permitting) until the end of September.
suttonsbayciders.com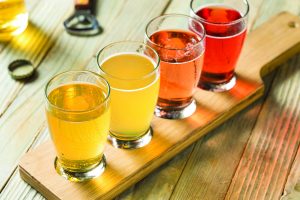 Only ten minutes north of Traverse City is Two-K Farms Cidery & Winery with breathtaking overviews of West Grand Traverse Bay. Their tasting room is high on a hill with an outside patio for when it's warm and a roaring fireplace when it starts to turn chilly. They have 16 hard ciders on tap, including dessert ciders, so there are plenty of different varieties for different tastes. Two-K harvests their own fruit from heritage apple trees that can trace their roots back to Great Britain, France and early colonial America. twokfarms.com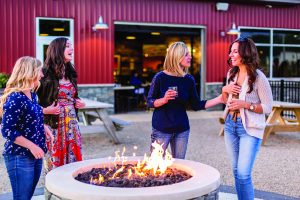 MID-MICHIGAN: OCTOBER 2 – OCTOBER 22
Pux Cider grows their own apples and uses locally sourced ingredients for their hard cider. Taste to your heart's content at their Pux Cider Taphouse right on Fuller Avenue in downtown Grand Rapids. The taphouse also offers different cheeses from all over the world and other small snacks, specializing in cheese flights to pair with their cider flights. They host open mic on Thursday nights and stand-up comedy shows every third Wednesday. puxcider.com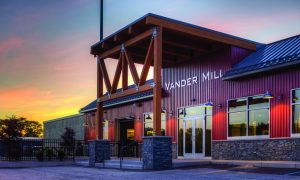 Located in NE Grand Rapids, Vander Mill wants customers to have a unique experience, not just with their ciders, but their food as well. Flavors from spices and other fruits combine to create a complex taste to their ciders that also complement the full menu at their restaurant. Currently, 30 taps are available with a selection of different ciders, from fruity to tart to zero sugar added, so check out their website for upcoming tasting tours and other events. vandermill.com
SOUTHERN MICHIGAN: OCTOBER 9 – OCTOBER 29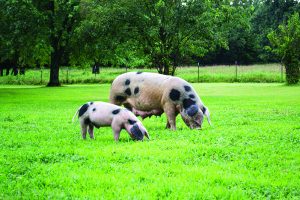 Virtue Cider in Fennville has five cider styles: dry, semi-sweet, fruit, barrel aged and botanical. In the latest GLINTCAP competition, Virtue Cider won ten awards, including second place for The Mitten, a wood aged cider that was their bestseller in 2022. The farm has extensive walking trails, greenhouses, cider houses and farm animals, including their Gloucestershire Old Spot pigs. They press their apples on site and use minimal electricity and water in the process and are almost completely solar powered. Virtue is a pet-friendly business open year round with indoor and outdoor seating. virtuecider.com
Blake's Orchard and Cider Mill in Armada is one of the largest hard cider distilleries in Michigan with an 800-acre working farm and orchard, a cider mill, Blake's Funland, tasting room, and hard cider production facility. Blake's puts community and environment at its forefront and has events and activities throughout the year, including tours, U-pick apples, and even an Appleseed Camp for kids. There is always something going on with happy hours, live music, trivia, and meal specials. Blake's Tasting Room is a large indoor/outdoor bar and restaurant with a full, diverse menu of food and drink. Try the Kinder Cinder, a cider made in support of nonprofit organizations, or the experimental and limited series for a bit of a surprise! blakefarms.com