Top Destinations for Snowshoeing and Cross-Country Skiing
Travel scenic and serene snow-covered trails
There isn't a better way to take in the sights and sounds of nature while exercising and enjoying the company of friends than to take to the trails on snowshoes or cross-country skis. Michigan is filled with first-rate trails just waiting to be explored this winter season.
Discover the best destinations for a sport-filled getaway with access to a variety of trails for different skill levels and trek lengths.
Manistee
Fourteen miles of breathtaking scenery beckon on the Manistee River Trail. The trail overlooks the river and showcases towering pines, a small waterfall and the largest wooden suspension bridge in the Lower Peninsula, connecting skiers and snowshoers with the North Country Trail. The varied terrain in some areas makes the full 14-mile trip best suited for advanced skiers and snowshoers.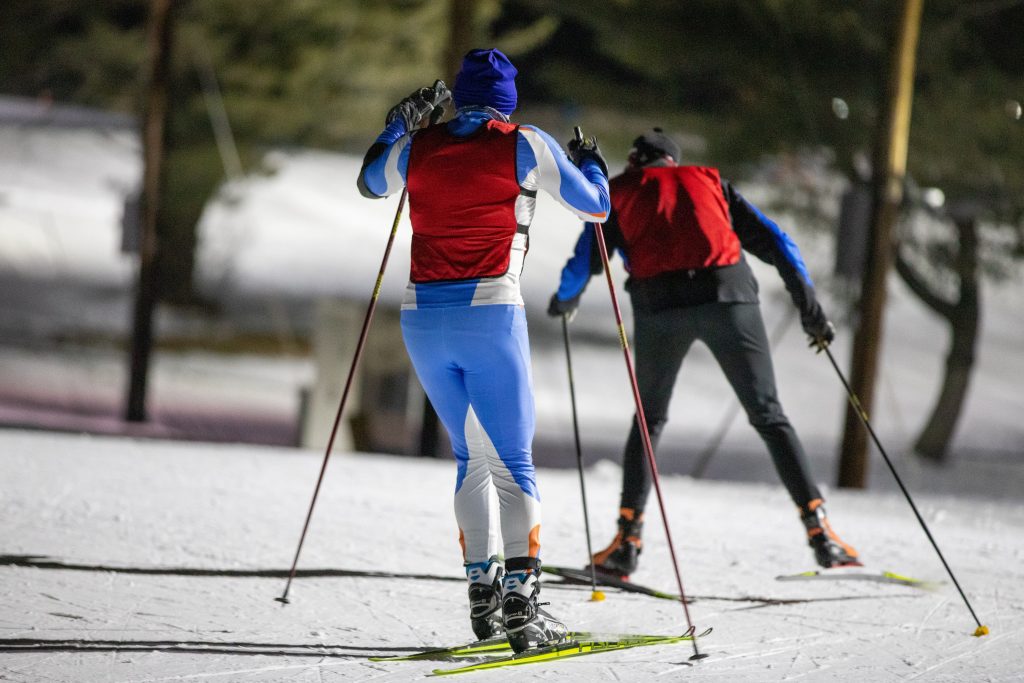 With seven loop options, Arcadia Dunes makes it easy for people of all skill levels to find a trail to enjoy. To get to the beautiful dune bluffs on Lake Michigan and see the amazing winter ice formations hundreds of feet below, make sure to take one of the Old Baldy trails – the 0.7-mile, 1.7-mile or 3.2-mile loop.
With flat, wide trails through wooded areas and open land, Orchard Beach State Park is a great place for newbies to skiing and snowshoeing. The 2.5-mile trail has three connectors so visitors can opt for shorter loops if preferred. Adding to the fun, there are information stations along the trails that describe the history of the area.
Grand Haven and Holland
A stay in either Grand Haven or Holland positions you about 15 miles from two outstanding Ottawa County parks with an abundance of acreage and access to a variety of nature-filled trails.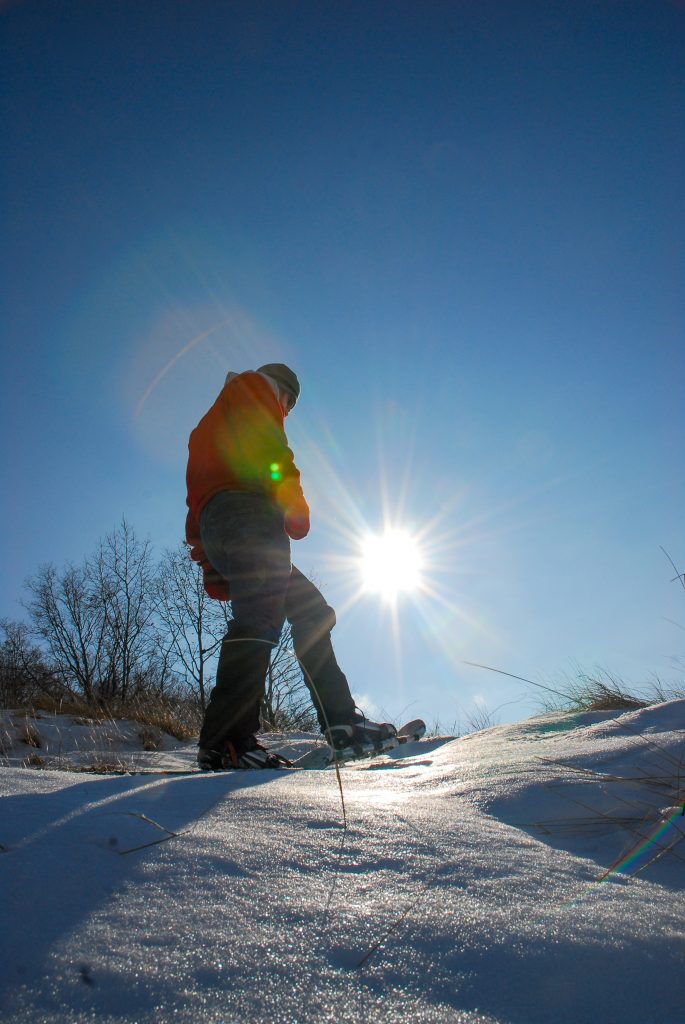 At Hemlock Crossing, more than six miles of trails meander through 239 acres of woods along the Pigeon River. There are several loops of varying lengths with the shortest being just under a mile. The park, which is open 7 a.m. to 8 p.m. during the winter, also offers snowshoe rental.
The 282-acre Pigeon Creek Park has more than 10 miles of trails with loops of various lengths winding through the woods and along the Pigeon River. The park also has three lighted loops for nighttime cross-country skiing and is open 7 a.m. to 10 p.m. year-round. Snowshoe and cross-country ski rentals are available, as are cross country skiing lessons.
Gaylord
The peaceful pine forests and mixed hardwoods at the Pine Baron Pathway are the perfect setting for an energizing and scenic adventure. The pathway features four interconnecting loops ranging in length from 2 to 2.5 miles and a 6.2-mile perimeter loop. With gently rolling to flat terrain, even novices will feel welcome.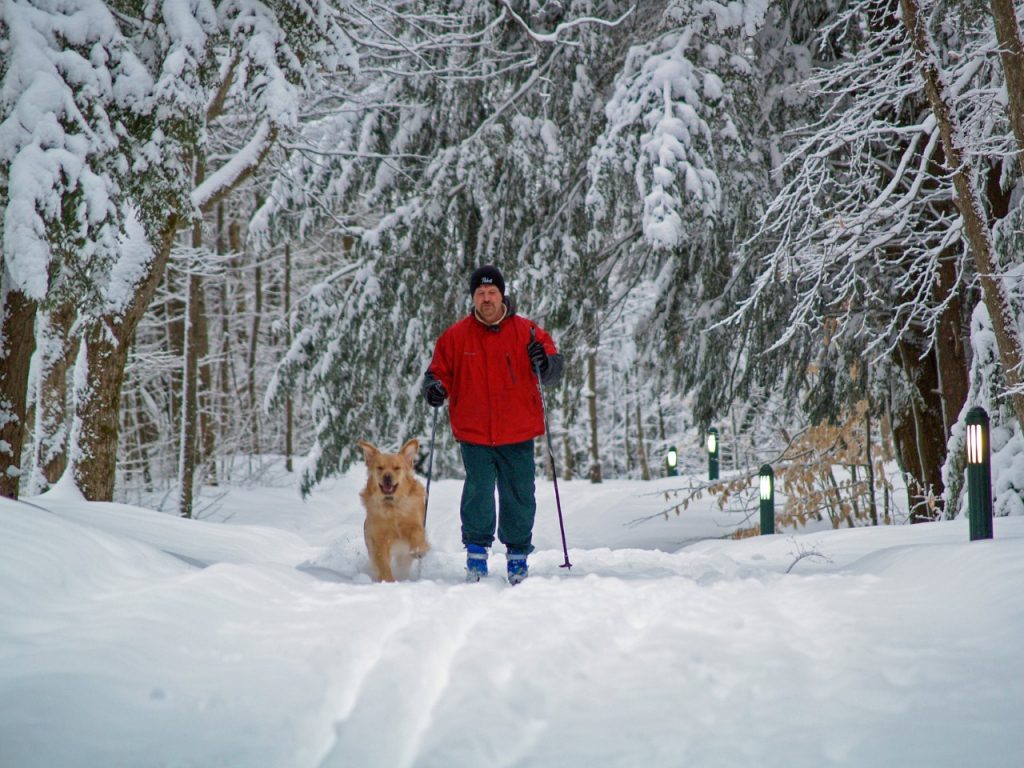 Ski, snowshoe and keep your eyes open for elk at Aspen Park. The park has a trail system with six loops, one of which borders the city's Elk Park, with loops ranging from a half mile to five miles long and meandering through stands of pine, hemlock and maple. Two miles of lighted trails for night skiing extend the enjoyment at the park, which is open from 6:00 a.m. to 11:00 p.m. year-round.

Forbush Corner Nordic is a unique, non-profit cross country ski facility that also offers snowshoe trails. Its 15.5 miles of ski trails and 6.2 miles of snowshoe trails are designed for all ability levels. Ski and snowshoe rentals are available, as are ski lessons, during weekend (Saturday/Sunday) park hours from 9 a.m. to 5 p.m.
Houghton / Hancock – Keweenaw Peninsula
An abundance of trails to accommodate skiers and snowshoers of all abilities can be found on Michigan Tech University and Nara Nature Park's linked trail systems. With more than 30 loops for snowy adventures, including six with lights for morning and evening skiing, the opportunities are endless. There are 20.5 miles of skiing trails and 22 miles of snowshoeing trails. Ski rentals are available on campus.
On the Hancock side of the Portage Lake Lift Bridge, the Maasto Hiihto and Churning Rapids Trails offer a 7.6-mile loop that meanders over Swedetown Creek. In Finnish, 'maasto hiihto' means "cross-country ski" but snowshoers are welcome too. The loop is suitable for all skill levels, and ski and snowshoe rentals are available at Downwind Sports in Houghton.
No matter where your adventure takes you, Michigan's trails won't disappoint with stunning scenery and beautiful wildlife.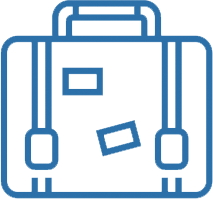 Travel Tip
Go to Trail Finder to locate trails in the cities you plan to visit. Not only can you search by location, you can search by trail length, activity type, difficulty level and more.