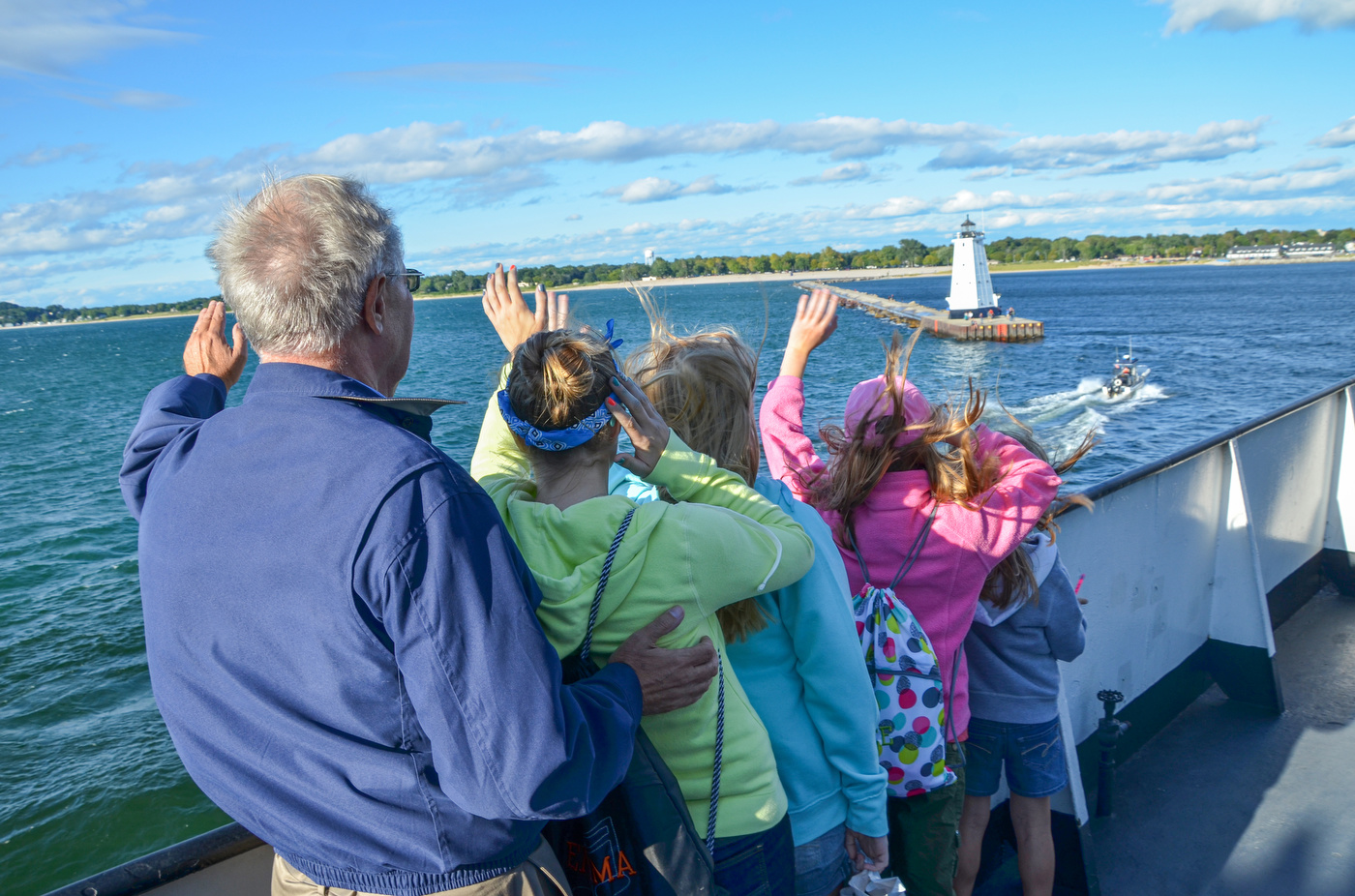 Top 5 Ferry Services on Michigan Lakes
Climb, drive or bike aboard a ferry for water views and adventure
The communities of Petoskey and Harbor Springs, near the tip of Michigan's Mitten, have been destinations for summertime visitors since the Victorian era. Then, steamships and trains carried city dwellers north in search of the clean air, sparkling waters and the "million-dollar sunsets" of the Little Traverse Bay region. Small boats provided local ferry service and were busy on the Lake Michigan waters transporting up to 5,000 people per day.
That nautical tradition was revived in 2020 with the launch of the Little Traverse Bay Ferry Co., a non-profit organization formed to honor local history and get people out onto the water. From late spring to early fall, the 52-foot Miss Lauren travels between Petoskey, Harbor Springs and Bay Harbor, offering both an alternative to driving between the destinations and a taste of the past.
Meet Miss Lauren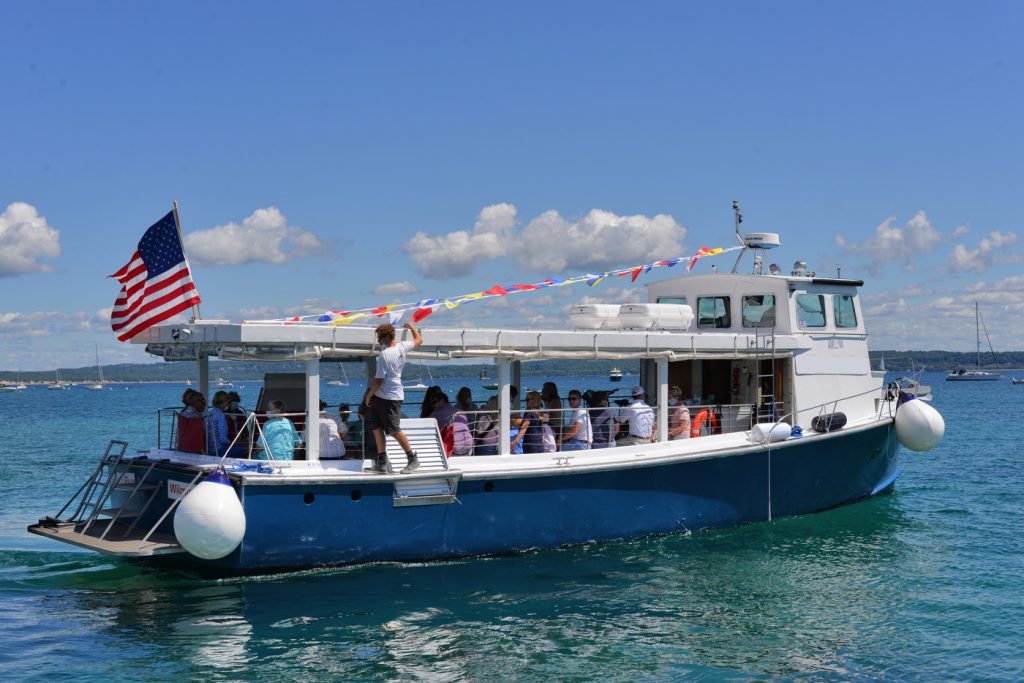 The 52-foot-long Little Traverse Ferry christened Miss Lauren previously served as a U.S. Navy landing craft, and more recently as a sightseeing excursion and dinner boat on the East Coast, says Ami Klykken, executive director of the ferry company.
Miss Lauren can comfortably accommodate about 30 passengers, with room for bicycles. It's an ADA accessible, pet-friendly craft, and light refreshments are available during the short jaunts. From Petoskey, the ride to Harbor Springs is 20 minutes, and to Bay Harbor 30 minutes. Trips can be point-to-point or round trip, and passengers can stay on board for a leisurely cruise or disembark at any stop and catch a later ferry.
Water View!
The excursion itself "is a really peaceful, serene experience," says Klykken. "Most people just relax and take in the scenery. The view of land from the water is so different." She recalls one 50-year resident of Harbor Springs who had looked at the bay every day but, "she had never been on the water." The outing on Miss Lauren brought her tears of joy.
Klykken says a trip on Miss Lauren is popular with girlfriend getaways, honeymooners and families. The boat is available for charter, something that one local grandmother does every year. She and her 13 grandchildren roll their bicycles onto Miss Lauren and head to Bay Harbor, where they hop on the Little Traverse Bay Wheelway for the return ride home.
Stroll the Ports
The ferry departs and arrives at docks convenient to the sights, shops, pubs, restaurants, galleries, and museums of the charming and walkable downtown Harbor Springs and Petoskey's Gaslight District, and the resort community of Bay Harbor.
You may want to spend extra time in Petoskey on a self-guided tour of sites related to Ernest Hemingway, whose family traveled from Oak Park, Illinois, to spend every summer at their cottage on Walloon Lake. Learn about the Hemingways in Michigan at the Little Traverse Historical Museum, which is housed in the 1892 train station.
Hemingway returned to Petoskey in the winter of 1919-1920 after serving as an ambulance driver in World War I and spent the time writing. Some of his Nick Adams stories are set in nearby Horton Bay, where he married his first wife, Hadley Richardson, in 1921. There's a statue of the writer next to the City Park Grill, where you can take his favorite seat at the bar.
All Aboard Four More Fabulous Ferries
Passenger ferries are the primary means of transportation to and from car-free Mackinac Island, the Victorian-era resort in the waterway between the Upper and Lower Peninsulas where everyone gets around on foot, by bicycle or horse-drawn carriages.
Mackinac Island Ferry Company (formerly Star Line) and Shepler's Ferry operate frequent, regularly scheduled runs between Mackinaw City in the Lower and St. Ignace in the Upper Peninsula, and bicycles and pets are welcome—you can even arrange to bring your own horse.
The comfortable vessels have enclosed lower levels, but if it's a decent day you'll want to head to the open upper deck to catch the breeze and spray of water on the 20-minute ride. They also offer sunset, lighthouse and other special cruises through the Straits of Mackinac.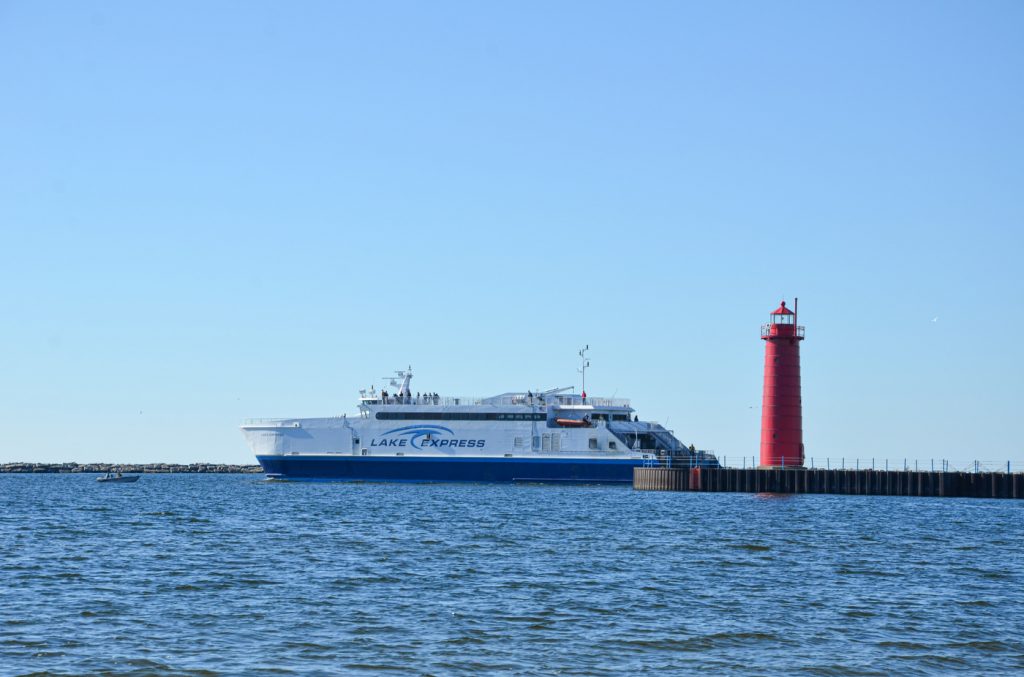 For an unforgettable experience, cross Lake Michigan aboard one of the car ferries that connect Michigan and Wisconsin. The SS Badger travels between Ludington, Michigan and Manitowoc, Wisconsin with up to 600 passengers and 180 vehicles. Designated a National Historic Landmark, the Badger makes the voyage in four hours, allowing plenty of time to relax on deck, taking in the incredible views of Lake Michigan. The Lake Express between Muskegon and Milwaukee crosses Lake Michigan in just two-and-a-half hours.
In addition, ferries operate between mainland Michigan and its many islands, including Isle Royale National Park and Drummond, Beaver, Grand and Sugar Islands.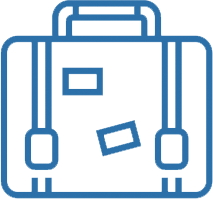 Travel Tip
Check the ferry websites for specials and discounts on tickets.