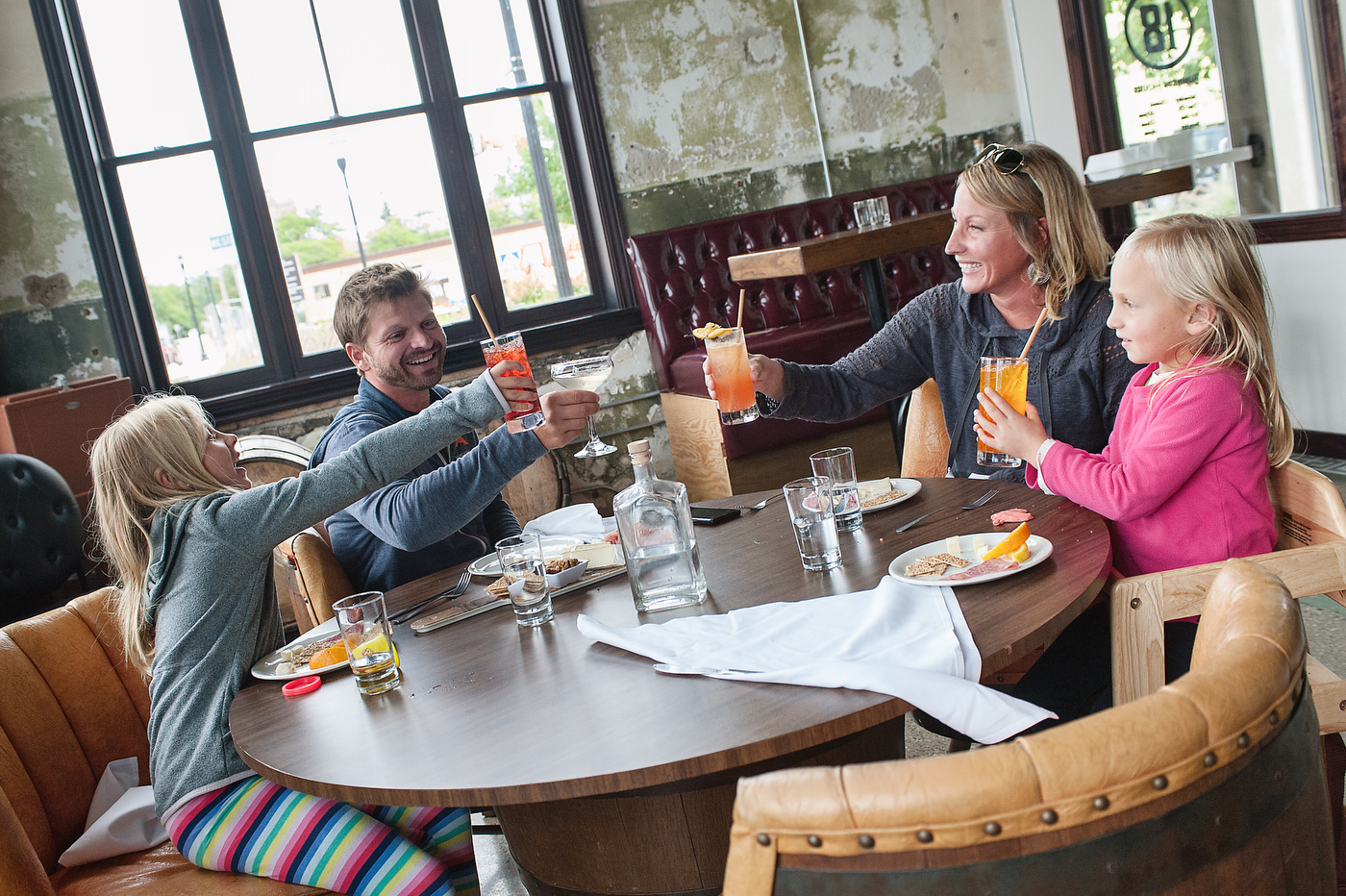 Michigan Foodies' Favorite Restaurants
Take a tasting tour with three square meals and more
With wine and beer tours prompting people to travel and taste, why not create a foodie tour. Planning your stops around events and activities can ensure the best experiences. The "progressive meal," taking place throughout your vacation, can span from southern to northern Michigan.
Many restaurants use local growers to create the freshest sensations. Here are some suggested stops.
Small Plates & Appetizers
We're starting in South Haven with a small plate at Taste. This is a great stop for Cuban shrimp. When it arrives, the shrimp is poached in saffron, garlic butter and paprika with artisan bread.
Moving into downtown Kalamazoo, order the Baked Goat Cheese at Comensoli's Italian Bistro & Bar. In addition to goat cheese, the appetizer includes sambuca spiked marinara, basil puree and breadcrumbs on a toasted crostini.
Next, head to the Middle East via Zooroona Mediterranean Grill in Kalamazoo, where you can dine in, order online or send an order via Facebook messenger. To round out with another appetizer, order Mediterranean Street Fries. The Zataar fries are loaded with chickpeas, tomatoes, green and red peppers, and onion—all sauteed in garlic sauce and topped with yogurt, harissa, cilantro and feta cheese. You can add chicken or beef shawermah.
Breakfast
In Grand Rapids, head to Wolfgang's Restaurant for Bread Lady, a banana bread French toast. Unlike any other, the bread is grilled and then topped with bananas and a dusting of powdered sugar. Just to put it over the top, it's served with a side of peanut butter—a bit Elvis-like, right?
In Petoskey, don't miss Tillie's Tafel. The downtown storefront specializes in daily made gourmet cinnamon rolls. They stay with what they know—cinnamon rolls and quality coffee. Warm and gooey, it's common to hear people say things like: "Hand down, the best cinnamon roll I've ever had." The recipe has been passed down for generations and has traveled all the way from Germany.
Entrees
Stop for dinner in Muskegon at Hearthstone Bistro. The restaurant offers diverse American and international cuisine. The entrees include a dish reminiscent of Julia Childs—Natural Angus Braised Beef Short Rib Bourguignon. It's served with Yukon gold potato puree, pearl onions, cremini mushrooms, braised duck fat young carrots and fava beans.
Something Sweet
For the perfect pie, head to Grand Traverse Pie Company in Traverse City—or a number of other Michigan locations. The cherry crumb pie is the rave, and although the company's slogan is "pie is made for sharing," that might not happen with our party, so order your own. In addition to the Grand Traverse Cherry Pie Crumb, there's Apple Honey Pie, Natural Michigan Cherry-No Sugar Added and Michigan ABC Crumb.
While there are thousands of special bites in Michigan, set your sites on trying these recommendations. Then, share your experience on the business's socials.