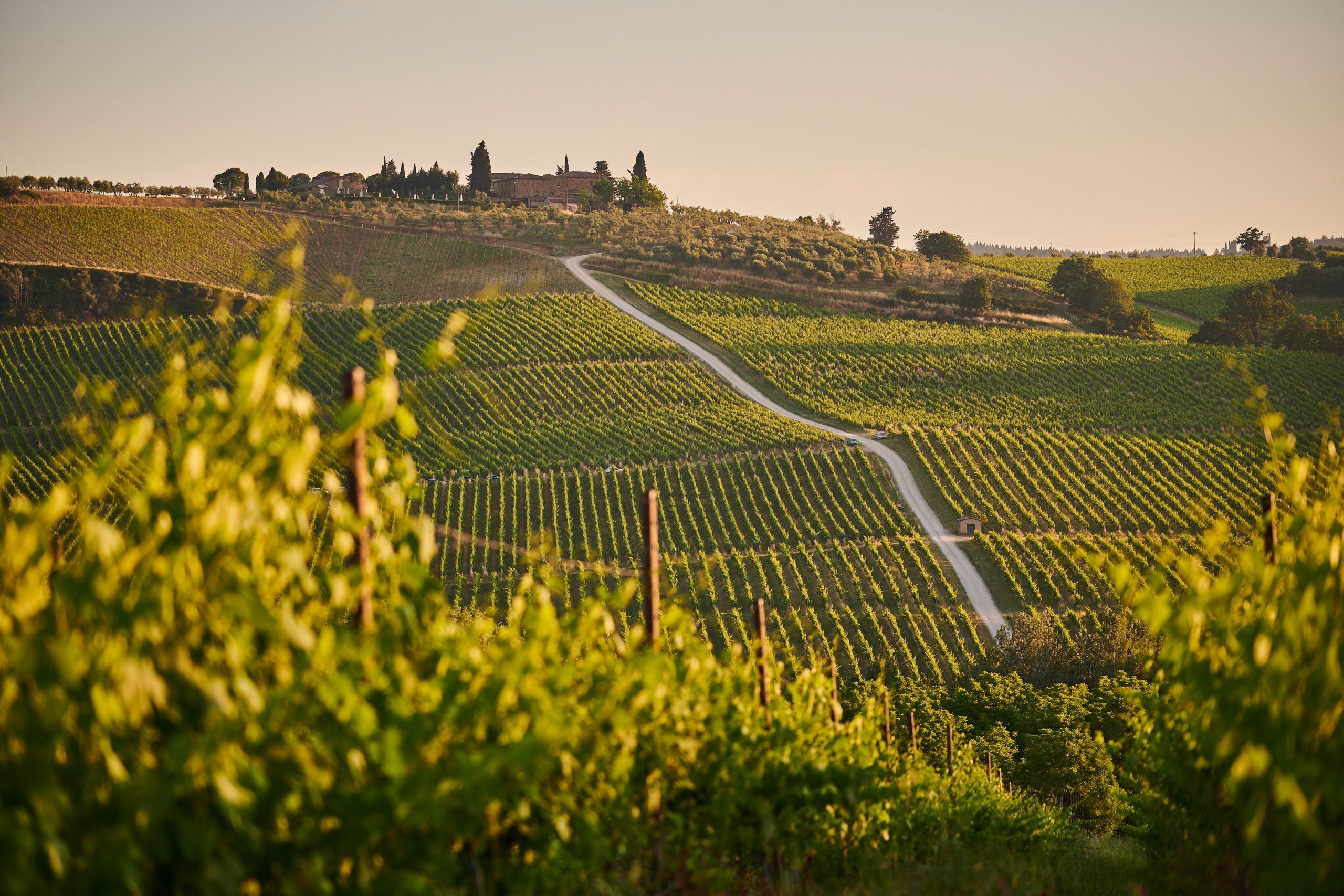 Road Tripping Through West Michigan's Wine Coast
Sip your way across three amazing wine regions filled with flavors
Visitors have been traveling the Lake Michigan shoreline for generations, drawn to the cooler climate, sugar sand beaches and quaint coastal towns. This region – known as Michigan's "fruit belt" – is also deeply rooted to the agricultural industry with vineyards, orchards and farms dotting the landscape.
Southwest Michigan Wine Region
Mariano Meconi, founder of St. Julian Winery, recognized the value of this grape growing region when he moved his Canadian operations (via Detroit) to West Michigan in 1936. Today, Michigan's oldest and most decorated winery is run by the fourth generation of the family, offering tasting room experiences at their production facility in Paw Paw, as well as in Union Pier, Dundee, Frankenmuth, Rockford and Troy. Here, visitors can sample from an expansive portfolio of wines, ciders and spirits produced by one of the first female winemakers in the state, Nancie Oxley.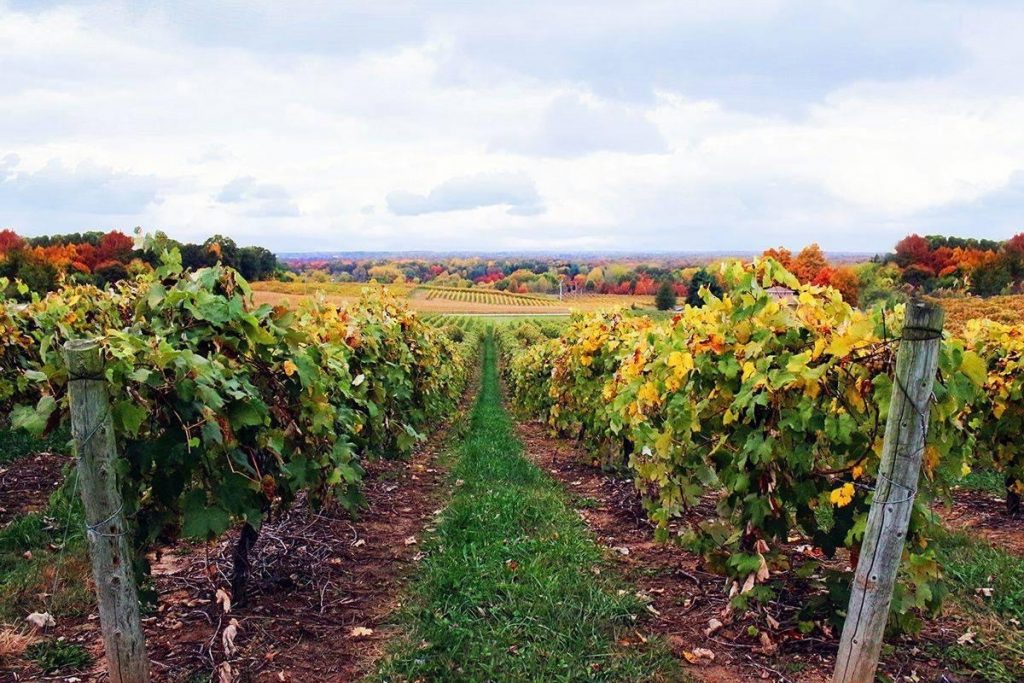 St. Julian is among 21 wineries within the Lake Michigan Shore AVA (American Viticultural Area) – one of five such federally recognized regions in Michigan that stretches along US-31 from the Indiana state line north to the Straits of Mackinac. It is this proximity to Lake Michigan (the second largest of the Great Lakes by volume, third largest by area and the only one entirely within the United States) that provides the ideal terroir – climate, topography and soil – for growing wine grapes.
The next generation of winemakers are honing their skills on the campus of Lake Michigan College in Benton Harbor. It is the Midwest's first commercial teaching winery, where students buy fruit from local growers to produce their own wines which are then bottled, marketed and sold within the Welch Center for Wine & Viticulture under the Lake Michigan Vintners brand. The tasting room is open to the public on Fridays and Saturdays, Noon to 6pm.
Traverse Wine Region
While a handful of wineries can be found along Lake Michigan's central coast from South Haven north to Beulah, it is the Traverse City region (Leelanau and Grand Traverse counties) which boasts the largest concentration of Michigan's wineries, with nearly three dozen.
The Sleeping Bear Dunes National Lakeshore is one of Michigan's premier vacation destinations, with historic sites like the Pierce Stocking Scenic Drive (and covered bridge), Port Oneida rural district, Glen Haven village and Leland's Fishtown – with its preserved fish-shanties-turned-retail-shops (like Carlson's Fishery and the Village Cheese Shop). Just a couple blocks away, Verterra Winery uses estate-grown grapes for its various wines like the 2021 Dry Riesling which won a "Double Gold" at the latest Pacific Rim competition or the 2018 Reserve Red Cab/Merlot which was aged in French oak for 18 months.
Mawby Vineyards & Winery, south of Suttons Bay, is all about the bubbles. They produce a variety of sparkling wines, from sweet to dry and white to pink, with fun and creative names like Freestyle, Grace and Sex (if you visit the tasting room, be sure to ask for the back story about this one). They even offer two styles in 4-pack cans – perfect for a day on the beach, boat or trail.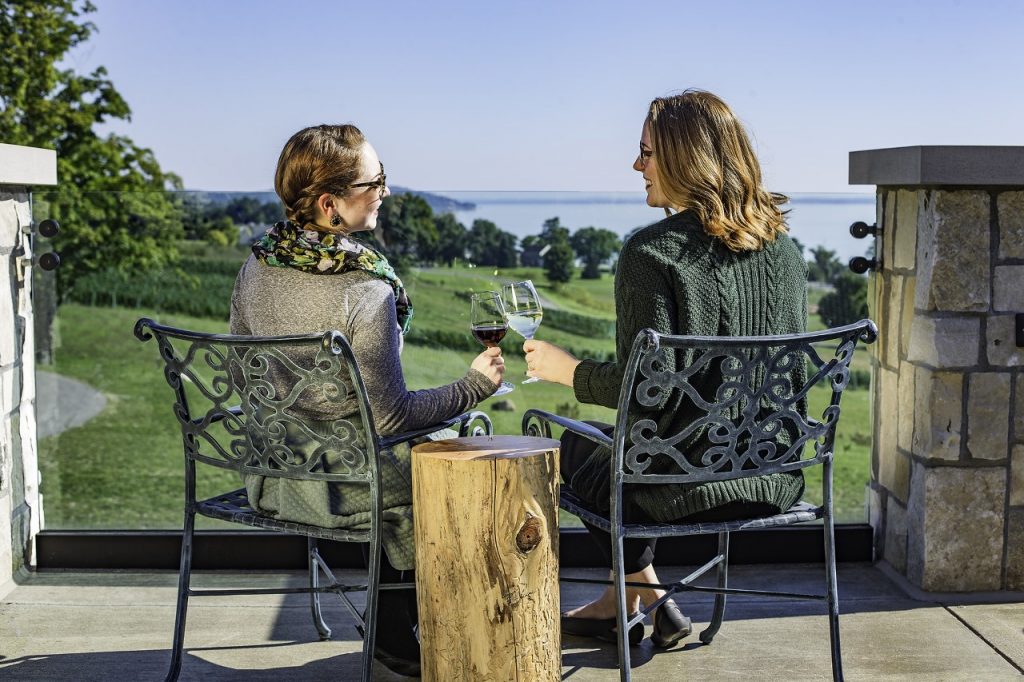 If you're a fan of the History Channel show "The Curse of Oak Island," you're likely familiar with Mari Vineyards on the Old Mission Peninsula. Perched on an east facing bluff, this 31,000-square-foot Tuscan-style production facility and tasting room is a must visit for wine lovers. Sean O'Keefe – one of Michigan's premier winemakers and son of Edward O'Keefe, the late wine pioneer and founder of Chateau Grand Traverse – utilizes 100 percent estate-grown grapes to craft Mari's Italian-influenced wines.
European style grapes such as Nebbiolo and Sangiovese are grown alongside Merlot, Cab Franc and Riesling, then nurtured to perfection in a proprietary Nella Serra hoop house. Upon harvest, the fruit is carefully crafted and aged into an impressive and ever evolving collection of wines. Visitors can order a flight, glass or bottle and congregate in one of the indoor seating areas or on the patio (complete with a fireplace, making it accessible year-round). Private tours take visitors to exclusive places like the wine cave, with its one-of-a-kind 32-foot-diamater Oculus. Here, light shines down from the middle of the vineyard over a large compass rose, which points toward the sun's solstice position.
Petoskey Wine Region
Michigan's newest AVA is the Tip of the Mitt, established in 2016, home to the Petoskey Wine Region. This area is rich with cold-hardy hybrid grapes that produce flavorful wines like Marquette, Frontenac Gris and Catawaba, among many others. These distinct varietals drew big attention throughout the state in 2017 when Walloon Lake Winery was awarded a "Best of Class" Double Gold Medal in the Dry Red category for its North Arm Noir at the annual Michigan Wine Competition – a rarity for a hybrid wine.
Tucked in off US-131 between Walloon Lake and Petoskey sits Boyne Valley Vineyards – easily recognizable by the pale yellow 1952 Chevy 3100 truck parked on a roadside bluff (unless it is winter, when you might spot a vintage snowcat). Down the dirt drive, a monitor barn style tasting room features plenty of windows and natural light, with modern yet rustic decor. This is a popular place for guests to order a glass (or bottle) of wine and a charcuterie platter, hummus or dessert plate, before settling in near the fireplace, outside on the patio or on the elevated Tree House deck.
Heading north out of downtown Petoskey, 3.5 miles past the historic 1875 Bay View summer resort colony, is Petoskey Farms Winery. You'll be hard pressed to find a better place to soak up the fall colors than the 60-foot-long outdoor covered patio overlooking the 11-acre vineyard and 22-acre scenic pastures. Less than a mile away is Michigan's sweetest tasting room – Maple Moon Sugarbush & Winery, which opened in 2015 as America's first maple winery. This family-run business offers a variety of fruit and hybrid grape wines all crafted with maple syrup from their wooded 80-acres. Wines like Maple Marquette, Maple Blanc and Maple Royal (a mouth-watering dessert wine) are actually fermented directly from the sugars in the syrup. In the tasting room, you can also purchase pure maple syrup and candy, ice cream, jam and other delicious treats.
Whichever wine region you decide to tour, Michigan's growers, grapes and wineries supply winning tastes to be savored year-round.